Major Mayors of Europe – Rui Rio
After spending 12 years as mayor of Porto, Rui Rio is now faced with a tumultuous task – keeping his party together in the face of adversity
22 януари 2020, 11:30
Anton Stoyanov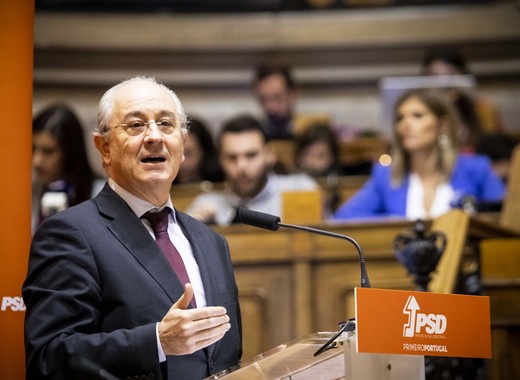 Източник: Partido Social Democrata Jornadas Parlamentares PSD by Partido Social Democrata on Flickr (CC BY-NC-SA 2.0)
Serving out three consecutive terms as mayor of Portugal's 2nd largest city is no small feat in and of itself – but Rui Rio's job has just begun. He is currently fighting for his party's soul and existence – faced with challenges from within and without.
Who is Rui Rio?
Rui Rio was born on 6 August 1957. He is an accomplished economist who traversed through many different sectors, before finally landing in the field of banking. Yet he temporarily suspended his professional career when he took his first steps in national politics.
Rio joined the centrist PSD's (Social Democratic Party) youth wing in the 1980s and served in its National Political Commission. He was elected to the national parliament as a representative of the district of Porto in 1991 and served out several terms until 2001. During that period, he took up the role of the PSD's spokesman on economic and financial topics and was its secretary-general between 1996 and 1997.
In 2001 he relinquished his seat in the National Assembly and ran for the position of mayor of Portugal's 2nd largest city – Porto. He won the elections and then went on to win another two mandates in 2005 and 2009. In 2009, he managed to beat Elisa Ferreira, Portugal's current European Commissioner for Cohesion and Reform.
After ending his 3rd term as mayor of Porto, Rui Rio went on to work in the private sector. He marked his triumphant return to active politics in 2017 when he announced that he is launching his bid to take over the chairmanship of the PSD. Ultimately, he was successful and has been at the helm of the party head of the opposition in the Portuguese parliament ever since.
Party divisions
The Social Democratic Party has been one of the pillars of Portuguese politics ever since the collapse of the dictatorial regime of Antonio Salazar. It was established as a catch-all, big-tent party that brought together many different political ideologies, ranging from centre-left traditional social-democrats to liberals, social conservatives, right-wingers, Christian democrats, centre-right conservatives and many others.
The landscape within the party can at the very least be called fragmented. Yet such ideological divisions never truly managed to hinder the PSD from gaining power – instead, the many different factions recognized that only by working together will they be able to reach governing positions. That overarching belief has kept the party together for decades – with some minor exceptions.
But it was precisely this understanding of party unity that makes it so hard to unite when it is no longer in government. Rui Rio took over the chairmanship of the party in difficult times – the Great Recession was just subsiding and its effects could still be felt by Portuguese society.
Rio's pitch was simple – he was hailing from the PSD's centre-left wing and was an avid critic of the austerity policies imposed by his predecessor – Pedro Passos Coelho. He wanted to drive growth by rolling back the harsh measures and wanted to bring a conciliatory tone to the party, bring it together and heal the divisions that were starting to emerge between its many factions.
And the party faithful were convinced – at least for the time being. Rui Rio defeated former Prime Minister Pedro Santana Lopes in the leadership contest and managed to push the PSD back to the centre – where he believes the party has always belonged.
Internal squabbles and outside assaults
Yet as one might imagine, centrist policies and positions might not be everyone's preferred choice. The pragmatic and friendly approach Rio employed when dealing with the governing Portuguese Socialist Party angered the PSD's right-wing.
Rio had spent the first months as head of the party attempting to woo the Socialists and supporting them in many of their initiatives – like their EU policy, their reforms aimed at decentralization and giving more power to municipalities and others. He had hoped that when the next elections came about, the Socialist Party would also offer their support if the PSD managed to win.
Yet these moves proved deeply unpopular among the conservative-minded members of Rio's party. He was quickly challenged for the party's leadership by Luis Montenegro, a member of the PSD who had served as parliamentary group leader during its previous stint in Government. After a lengthy 10-hour debate, Rio emerged victorious, but not unscathed. It was apparent that keeping the entirety of the party in check would not be a simple task.
With Rio moving Portugal's main opposition party further to the left and into the centre, the country was left without a credible centre-right alternative. And for a long time, it looked like it didn't need one – far-right populists were completely absent from the political landscape, while the right-wing fragments of the PSD that had abandoned it before were struggling.
But even that has started changing. Rui Rio's goal was to stop the far-left from governing with the Socialist Party – that is why he always had a hand stretched out to Antonio Costa. Yet those actions left the right of the political spectrum without proper representation – and they have started flocking to more radical alternatives.
Amid growing support for the far-right Chega! party and other free-market liberal and conservative groups, whose voters appear to have grown tired with the PSD's centrist position, Rui Rio recently managed to survive his 2nd leadership challenge in as many years.
His conciliatory Centrist approach has won him no friends among the more radically-minded members of the Social Democratic Party and while he has managed to stem the bleeding of voters to a large extent, the party is still struggling to regain its footing and is yet to recover from one of its worst showings in modern history.
Rio's next major challenge – now that he has survived the latest leadership challenge – will be the 2021 local elections. Judging by his biography, the former mayor of Porto has a knack for those. So, who knows? Municipal politics might be the thing that saves him and his party.
TheMayor.EU се обявява против дезинформацията и разпространението на фалшиви новини. Ако сте попаднали на такива примери, пишете ни на info@themayor.eu