Metro line 5 project transforming Budapest transport
The unparalleled investment will upgrade the fixed-track transport of the Hungarian capital by connecting the suburban railways (HÉV) with the metro network
06 август 2020, 17:30
TheMayor.EU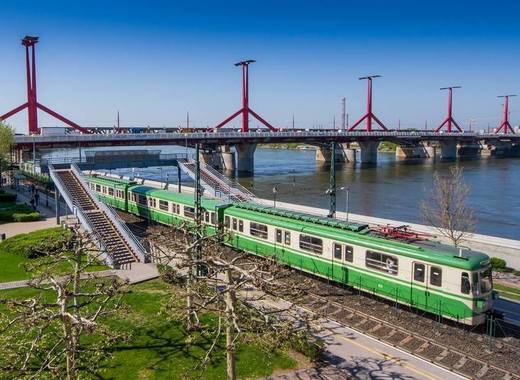 Източник: Facebook / MAV- HÉV
Traffic between Budapest and its suburbs will accelerate significantly with the implementation of the large-scale metro project 5, Dávid Vitézy, director of the Budapest Development Centre (BFK), told Magyar Nemzet newspaper. BFK is implementing the project in a consortium with MAV- HÉV.
Faster traffic, easier transfers
The largest investment in Budapest in the coming years will reorganize the fixed-track transport of the capital by connecting, among other things, the suburban railways (HÉV) and the metro lines, thus helping people living in the agglomeration around Budapest to get into the capital faster and easier. Currently, the suburban railways are completely cut from the metro network.
The plan envisages connecting the H6 and H7 lines (Csepel and Ráckeve) where they approach the capital's inner districts. The new joined line, named M5, will proceed underground to Kálvin Square, where the metro lines 3 and 4 intersect. In the future, the Gödöllő and Csömör HÉV will be connected to Metro line 2.
Regarding the M3 line, which is managed by the city government, there is a huge problem according to Vitézy. Its upgrade has been stalled as the Austrian construction company involved in its renovation is demanding additional HUF 18 billion.
Air-conditioned trains
An EU tender for the design of M5 has already been launched. The next step will be the renewal of the entire HÉV vehicle park servicing Szentendre, Csepel and Ráckeve. The suburban trains will become more passenger-friendly with contractors obliged to equip the trains of the new M5 line with air-conditioners.
The suburban railways have been underused for decades, incurring massive debt. Nowadays, just about a third of people living in the agglomeration use this kind of transport. With the help of the M5 project, BKF aims to double this number.
Interconnecting Buda tram lines
BKF will pursue its ongoing project of interconnecting tram lines in Buda by creating new routes along Kopaszi-gát, Infopark, and the campuses of BME and ELTE. The new tram lines will also align with the planned South Ring railway.
TheMayor.EU се обявява против дезинформацията и разпространението на фалшиви новини. Ако сте попаднали на такива примери, пишете ни на info@themayor.eu