National Tulip Day this Saturday in Amsterdam
Become one of thousands of visitors to see the massive tulip garden and return home with the traditional flower
14 януари 2020, 17:30
Aseniya Dimitrova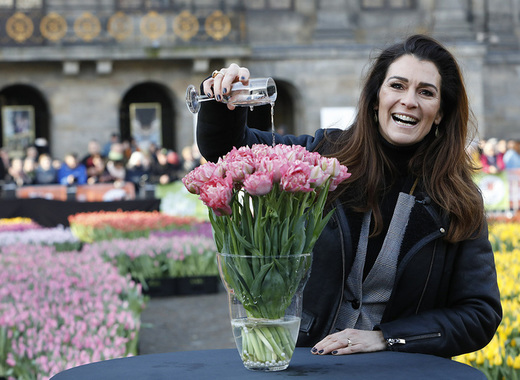 Източник: National Tulip Day (Nationale Tulpendag) / tulpenpromotie.nl
This Saturday Amsterdam will welcome again one of its most-recognizable events: National Tulip Day (or Nationale Tulpendag in Dutch). The traditional event fascinates thousands of visitors with an enormous temporary garden on Dam Square, made of around 200,000 tulips. If you happen to be around this weekend, do not miss the chance to see it and return home with a bouquet of the Netherlands' symbolic flower.
The National Tulip Day takes place on the third Saturday of January in the capital of the Netherlands and represents the official launch of the tulip season, the time of the year when tulips are being cut and offered in large varieties by florists within and beyond the Netherlands. All visitors are invited to pick their own tulip for free from a specially constructed garden at Amsterdam's Dam Square.
2020 National Tulip Day programme
In 2020 Tulip Day will be on 18th January, 2020 at 13:00. The garden will close doors once the tulips are all gone. At the entrance to the tulip picking garden every visitor will receive a biodegradable bag, which will fit exactly 20 tulips. It is not allowed to bring your own shopping bag. The tulip picking garden is extremely popular, so make sure you arrive on time but preview an average waiting time of 30-60 minutes.
While you wait, the organisers will offer a cozy atmosphere with music. In addition, you can also view the picking garden from the walkway in full size. This year, three children will receive a special surprise: they will become tulip princesses and will participate in the opening of the picking garden on Dam Square.
Usually no less than 10,000 people attend the event in Amsterdam every year. The tulip picking garden is offered by all Dutch tulip growers, united in Tulip Promotion Netherlands. The tulip season lasts until the end of April which is therefore the best time to visit Holland if you want to admire the trademark flower, the national tourism portal advises. If you happen to miss the Tulip Day in January, in March the "Garden of Europe" in Keukenhof will be expecting you with a spectacular display of millions of flowers.
TheMayor.EU се обявява против дезинформацията и разпространението на фалшиви новини. Ако сте попаднали на такива примери, пишете ни на info@themayor.eu