New electric trains find their home on Croatia's railways
The new trains will help make the service the go-to choice for travellers
29 септември 2020, 19:30
Anton Stoyanov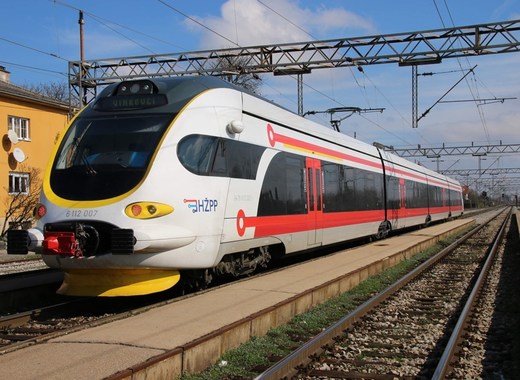 Източник: HZ Putnicki Prijevoz
Croatia's railways are slated to receive a brand-new addition of 21 electric trains that are meant to make railway transport an even more attractive alternative to traditional mobility options. The grant agreement for the purchase of the new vehicles was signed on Monday 21 September by Croatian state officials and the president of the railway transport company HZ Putnicki Prijevoz.
The cost of the investment is over 1 billion kuna, 880 million of which will be provided under the EU's Cohesion Fund. The first 14 trains will be delivered and will enter into operation in 14 months.
Creating sustainable mobility alternatives
The new trains will allow the Croatian railways to grow into a strong contender for the hearts and minds of travellers. By investing in improving the quality of their services HZ Putnicki Prijevoz is making sure that they can remain competitive and efficient, which would ultimately lead to more train travel and therefore to less pollution from personal vehicles – a key part of the Croatian government's climate action plans.
Not only that, but the new trains will also be produced locally, meaning that the funds that will be invested in their purchase will go directly into the Croatian economy, promoting growth and providing additional jobs during a period of economic downturn.
After signing the agreement on behalf of the government, State Secretary for Infrastructure Tomislav Mihotić stated that "This procurement shows that in addition to strong investments in railway infrastructure, we are also turning to investments in new trains, as well as equipment.
With the Transport Development Strategy until 2030, the Ministry of the Sea, Transport and Infrastructure has determined among the measures to improve the entire transport system, as one of the most important measures, the modernization of the rolling stock, and thus the procurement of new public transport vehicles that comply with the highest safety standards and quality. I believe that these criteria have just been met by our domestic manufacturer."
TheMayor.EU се обявява против дезинформацията и разпространението на фалшиви новини. Ако сте попаднали на такива примери, пишете ни на info@themayor.eu