Umeå rents climate-smart electric cargo bikes
The U-bikes can carry up to 100 kilos
26 юни 2019, 14:30
Monika Dimitrova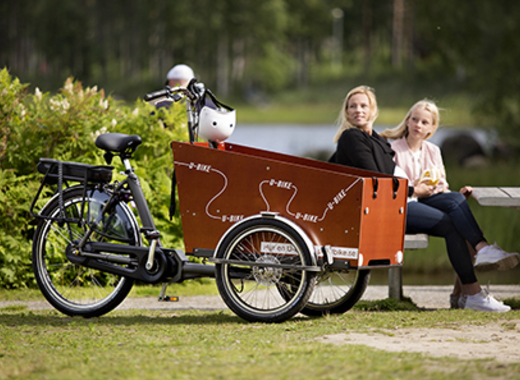 Източник: Malin Grönborg/Umeå Municipality
The northern city of Umeå in Sweden offers climate-smart electric cargo bikes all year round, upgraded with studded winter tyres in wintertime. They are called U-bikes and are rented out to anyone who wants to try them in their everyday lives. They can carry up to 100 kilos and replace many unnecessary car journeys in the inner city. Since the U-bikes cargo bikes are electric, they are easy to drive even on longer trips. A fully charged battery can cover 80 kilometres. The box at the front is perfectly equipped and a perfect fit for a child. U-bike is owned by Umeå municipality and is a three-year-long project.
Everyone can rent electric cargo bikes in Umeå, so become a member and try it. The bikes can be found in a garage on Campus Umeå, in the Physiology Building on Linnaeus väg 2 and the centre of the city. To rent a U-bike you must first register as a member. The membership costs SEK 50 and is automatically renewed every month until you choose to suspend it. To become a member, you must be at least 18 years old. You also have to book it on the day you'll be using it. No pre-booking is available. When you have booked, the rental time starts immediately. The bike needs to be returned by 21:00 the same day.
Source: Umeå Municipality
Like the article? Subscribe to our newsletter to receive the latest from the EU cities right into your inbox.