Po občanské participaci, Mariánské náměstí zná svou novou podobu
Mariánské náměstí bude mít po občanské participaci nový vzhled
středa 16. září 2020 14:30
Karel Král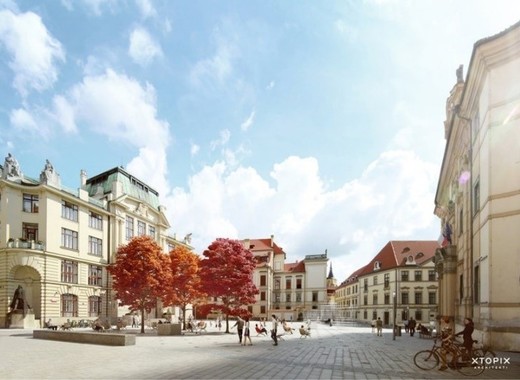 Zdroj: XTOPIX via City of Prague
Ve středu 9. září studio Xtopix představilo svůj pohled na nové Mariánské náměstí. Tato podoba není nejen samotného studia, ale I místních občanů, kteří vyjádřili své představy o finálním vzhledu. Náměstí se podle nich má stát ohniskem nejen odpočinku, ale I kultury. Projekt zahrnuje I úpravy náměstí Franze Kafky a jeho okolních ulic. Současný projekt počítá z započetím rekonstrukce v roce 2022.
Magistrát hl.m. Prahy, Městská a Národní knihovna. To jsou jedny z institucí, které na Mariánském náměstí sídlí I přes to že náměstí funguje prozatím jenom v testovacím režimu. Přesně z tohoto důvodu minulý rok Institut plánování a rozvoje hl.m. Prahy (IPR) pořádalo soutěž, kterou vyhrálo studio Xtopix.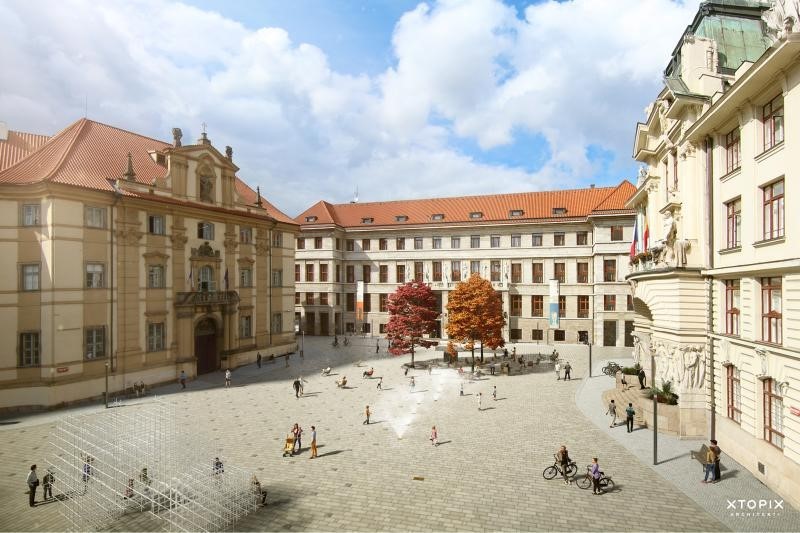 Nový design náměstí by měl poskytnout obyvatel dostatek prostoru pro relax v podobě prostorné pěší zóny kterou budou krýt dva javory. Ovšem nebudou chybět ani lavičky, stolky, a dokonce ani kašna, pítka a vodní trysky které budou poskytovat osvěžení I při nejvyšších letních teplotách.
Ovšem ani okolní prostřední se nevyhne již tak nutné modernizaci. Tyto okolní prostory jsou: ulice Platnéřská, ve které bude rozšířen chodník podél budovy Klementina, který bude sloužit I jako prostor Galerie hl.m. Prahy, ulice Kaprova, ve které bude vysazeno nové stromořadí. a náměstí Franze Kafky.
Všechny tyto úpravy nesly v první řadě zájmy a přání chodců a cyklistů. Ovšem samozřejmě nebude bránit nutnému průjezdu motoristů. Celý design by v sobě měl zachovat esenci Mariánského náměstí a jeho historie.
Samotný projekt byl představen od 9. do 12. září v Dílně ústřední knihovny, které se nachází na samotném Mariánském náměstí. Zde si občané mohli prohlédnout model projektu, nebo se dozvědět informace o náměstí samotném. Studio Xtopix následně 10. září v 17:00 pořádalo představení návrhu.
TheMayor.EU stands against fake news and disinformation. If you encounter such texts and materials online, contact us at info@themayor.eu