Grosuplje

Zdroj: Grosuplje Municipality

Mayor
Peter Verlič
Životopis
Historie města
Historical sources reveal that the name Grosuplje was first mentioned in written documents in 1136 as Groslupp.
The Slovenian town developed into a truly important road and railway junction in the XIX century – with the creation of the the road link between Krka Valley and Žužemberk in 1869.
The railway line Ljubljana - Kočevje was built through Grosuplje in 1893, and one year later the first train ride from Ljubljana to Novo mesto took place through the city. The railway brought about rapid development to the area. People from the surrounding settlements began to visit the local pubs, and shops that were reselling the goods and market surpluses of the surrounding farmers.
The local people were mostly farmers, carters, millers, and they dealt in the leather and brick industry. Near Šmarje they also cultivated flax and hemp.
After World War II, the village began to spread rapidly and developed into an economic and administrative centre, but also into the centre in the very physical meaning of the word, since most of the country's communication network flows into Grosuplje.
Grosuplje is a municipality located in central Slovenia. The seat of the municipality is the town of Grosuplje. It lies just south of the capital Ljubljana in the region of Lower Carniola.
City Hall

Address: Taborska cesta 2, 1290 Grosuplje
Grosuplje is known for its developed craft and industry. It is a city, which is only a twenty-minute drive from Ljubljana and along the highway towards Zagreb.
Tourism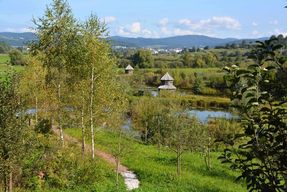 Zdroj: Grosuplje Municipality
Grosuplje is known primarily for its rich cultural and historical heritage, and natural beauties. Active tourism is also well connected with green tourism, especially with the regulation of three-lane trails and walking, hiking and biking trails.
The most popular natural and cultural sights are: the cave of Županova Jama (Mayor's cave), the karstic site of Radensko Polje, Tabor Cerovo and Magdalenska Gora.