Barcelona

Mayor
Ada Colau Ballano
Životopis
Historie města
Barcelona has been the capital of the Country of Barcelona since the Middle Ages. It remained an economic and administrative center and the capital of the Principality of Catalonia after merginf with the Kingdom of Aragon.
Prior to 1992, Barlcelona had been a largely industrial city. But this wasn't to remain so when the city prepared to be the host of the Summer Olympic Games in the same year. Industrial buildings were demolished and beaches were created - about two miles. The urban infrastructure was improved increasing the capacity of city roads by 17%. Sewega capacity was also improved. The beggest increase was seen in the amount of new green areas and beaches. This meant that more tousists will visit which led to the doubling of hotel rooms.
Barcelona is the second most populous municipality in Spain. It has a population of 1,6 million in the urban area only. Thge neighbourig areas add more to the population. The Province of Barcelona is home to around 4.7 million people, making it the 6th most populous urban area in the European Union.
City Hall

Placa de Sant Jaume,

Barcelona, Catalonia, Spain
Barcelona is one of the world's most dymanic cities. It is a center of trade, culture, commerce, education, entertainment, also media and fashion. In 2008 it was announced that Barcelona was the 4th most economically powerful city by GDP in the European Union. BSE, or the Barcelona Stock Exchange, is the main one in the northeastern part of the Iberian Peninsula.
Manufacturing has played a huge role in the economic development of Barcelona since 1833 when the city largely industrialized, boosting its already developed and sophisticated textile production.
TOURISM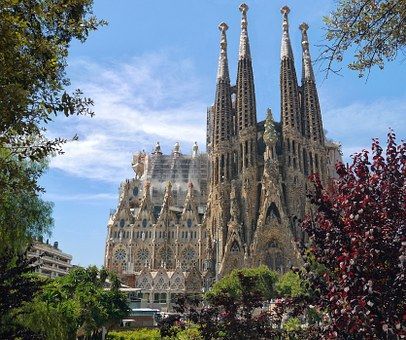 Zdroj: Pixabay
Many recreational areas, some of the best beaches, warm climate and rich history, plus eight UNESCO World Heritage Sites are just some of the reasons and attractions that draw millions of tourists every year to the city. Barcelona also has a very well-developed infrastructure which makes connectivity and commute easier.
Barcelona is the 5th most visited city in Europe - it welcomes about 5,5 million tourists, and the 20th in the world.