Paphos

Mayor
Phedonas Phedonos
Biografi
Kort historie
Archaeology shows that Palaepaphos has been inhabited since the Neolithic period. It was a centre of the cult of Aphrodite, the Greek goddess of love and beauty, and of pre-Hellenic fertility deities. Aphrodite's mythical birthplace was on the island. The founding myth is interwoven with the goddess at every level, so that Old Paphos became the most famous and important place for worshipping Aphrodite in the ancient world.
After 1974, there was rapid economic activity in all fields, especially tourism in the Kato Paphos area. The government invested heavily in irrigation dams and water distribution works, road infrastructure and the building of Paphos International Airport, the second international airport in Cyprus.
In the 1980s, Kato Paphos received most of the investment. In the 1990s, Coral Bay Resort was further developed and in the 2000s, the Aphrodite Hills resort was developed.
Paphos is a coastal city in the southwest of Cyprus and the capital of Paphos District. The city lies on the Mediterranean coast, about 50 km west of Limassol (the biggest port on the island), which has an A6 highway connection. Population of the city is arround 32,754 inhabitants (2011).
City Hall

Address: October Square 28, PO Box 60032 – 8100, Paphos

Working hours: Monday – Friday from 7:30 to 15:00
The economy of Paphos depends largely on tourism and there are four resorts in the district: Kato Paphos, Coarl bay, Latchi and Aphrodite Hills. The largest by far is Kato Paphos which employs over half of Paphos' population. Farming, especially banana, grape and tobacco cultivation, also contributes significantly to the economy of Paphos. Paphos has a 100 km water distribution network which irrigates 5,000 ha of land. Paphos has the island's second international airport. Paphos Harbour is not important in terms of international trade as most shipping uses the harbour at Limassol. Paphos Marina has cultural and historical importance and is also used for fishing.
TOURISM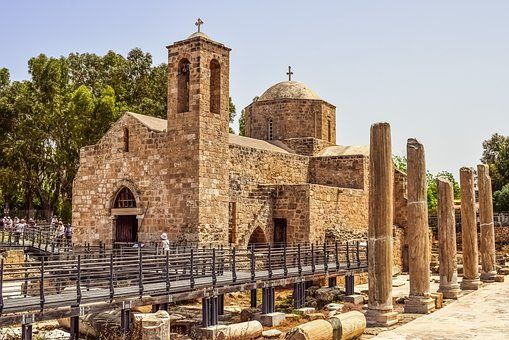 Kilde: Pixabay
Paphos is included in the official UNESCO list of cultural and natural treasures of the world`s heritage for its spectacular ancient remains, and was selected as a European Capital of Culture for 2017, along with Aarhus.
Paphos is well known for its cultural and historical interest, including the Tomb of the Kings, Mosaics, Castle and numerous Churches, however it is also popular for its festivals and annual events.
During September, Paphos holds an annual Opera, Paphos Aphrodite Festival in the open air at the harbour. The Castle provides an unusual backdrop and stage for the performance. En Plo also plays an important role, providing the facilities for this event. At other times of the year, En Plo will play host to numerous art exhibition and craft fairs. Another annual event is Open Studios Cyprus. Taking place during selected weekends in October; selected artists open their studio doors to the general public, providing an informal environment to view and discuss the work with the artist.