Available in:
Del artiklen
Michel Bezuijen: I see increasing interest in Smart City from our companies and residents
Interview with the Mayor of Rijswijk, Netherlands
torsdag d. 30. juli 2020, 09.30
Aseniya Dimitrova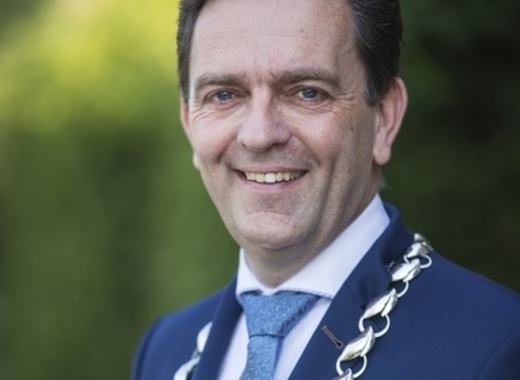 Kilde: Municipality of Rijswijk
Michel Bezuijen started his administrative career as councillor and first deputy mayor of the municipality of Haarlemmermeer. In 2013 he became mayor of the municipality of Rijswijk and in March 2019, the city council of Rijswijk nominated him for a second term as mayor. On June 18, 2020, Bezuijen was nominated by the Zoetermeer city council as the new mayor. He is scheduled to be appointed on 1 October 2020.
Mr Bezuijen, would you describe Rijswijk: what is there to see and do here?
Rijswijk is a medium-sized municipality with approximately 55,000 inhabitants, located near The Hague in the west of the Netherlands. Rijswijk has two faces: on the one hand, it is a real city and you imagine yourself in an urban environment with all the facilities that go with it within easy reach: highways, chain stores, train station, office parks.
On the other hand, Rijswijk also has a village face with all the benefits that come with it. Many green parks and shopping in the old shopping street. It offers the best of both worlds, making it a wonderful city to live, work and relax in.
Part of your responsibilities includes regional cooperation. Which are your most important regional partners?
Our main regional partners are our neighbouring municipalities. Rijswijk is located in the Randstad; the most populous part of the Netherlands.
Cities are close together. That makes cooperation necessary. In the region, the municipalities are represented in the Metropolitan Region Rotterdam The Hague.
Other important partners in the region are the province, transport companies, the water board and large international companies that have their headquarters in Rijswijk (for example, car manufacturer BMW, travel organization TUI and the European patent office EPO).
One of the strongest collaborations the municipality participates in is the Energy Perspective 2050 which previews a joint future without fossil fuels. Could you explain more about this partnership? What is Rijswijk doing to promote this agenda?
The Netherlands must have reduced gas emissions by 49 per cent by 2030 compared to 1990 and be climate neutral by 2050. To achieve these objectives, a national climate agreement has been signed containing agreements for the built environment, agriculture and land use, electricity, industry and mobility sectors.
The agreements for the built environment and electricity sectors, in particular, have a major impact on our municipality. For example, the government has determined that our homes and buildings must be cut off from gas, and 70 per cent of all electricity must be generated from renewed sources by 2030.
The energy transition is one of the greatest challenges of our time. We can only successfully complete this turnaround if we ensure that there is broad support.
Retaining comfort, affordability and realism are key concepts in Rijswijk. As a municipality, we are very aware of what this means for our residents. That is why the focus of our own actions on affordability, efficiency and realism lies in our timetable.
In November, together with other local and regional authorities, Rijswijk signed an Urbanization Agreement with the government. Would you briefly present the major themes of the agreement: urbanization and mobility and the milestones that the document previews?
In the Southern Randstad there is a great need for additional housing and commercial space while the space for this is scarce. We realize that the Urbanization Task is transcending municipal boundaries.
Issues such as creating a robust infrastructure system, meeting the regional needs of homes and business premises, harmonizing energy supplies and agreements on financial contributions from higher authorities are just a few examples of topics that can only be realized at a regional level.
The aim is to meet the high demand for urban living (170,000 homes in the period up to 2040), to increase the economic agglomeration power, to provide a better connection between urbanization and mobility, to prevent open and valuable landscapes from being built up, to provide opportunities. sustainability and increasing opportunities for people in the labour market by creating extra jobs.
The main themes of the Urbanization Agreement:
The reciprocity between urbanization and mobility is established with this agreement.
The agreement is an essential follow-up to the 'Woondeal'. The Woondeal includes infrastructure and the relocation issue for the High Environmental category of companies as preconditions included. With this agreement, details of these essential conditions will be completed every 170,000 homes of the Urbanization Alliance.
Strengthen agglomeration power through regional programming and spatial strategy for businesses.
Confirmation of the urbanization strategy to meet the housing needs until 2040, especially in existing buildings to accommodate urban areas near high-quality public transport.
The agreement contains agreements to better coordinate the energy transition and urbanization to vote.
Rijswijk has joined the United Smart Cities program of the UN, becoming the second city in the Netherlands to do this. Why do you emphasize on the smart city development and what added value do you expect from this collaboration?
Our world is changing very fast; technological developments are moving faster than ever. For example, who would have thought ten years ago that the smartphone would play such a huge role in our daily existence? And if we look ten years ahead: what does our society look like?
In a smart city, we respond to these developments, based on the ambition to "do better tomorrow than today". Innovation and technology offer opportunities to make life and work easier and better.
Responding to technological developments is of course not only part of Rijswijk. But being a smart city is so important for us because it fits very well with our location.
Some of our neighbours on the one hand (Delft) are good at inventing new solutions, while others (The Hague) are inventing legislation to apply new technology. Consider, for example, the regulations regarding the use of drones.
But new technologies must also be applied in practice for the first time so that we can learn from them. Given our surroundings, Rijswijk is ideally suited for this.
We have been working on becoming a smart city for a while now and I see that there is increasing interest, both from companies and from our residents. That is why it is good to use more and more partnerships so that we can further expand our smart city Rijswijk.
Is there a smart city solution from Rijswijk that you would like to share with the other mayors in the EU?
In Rijswijk, we participated in the national Smart City Living Lab program. We had a case in Rijswijk that was well suited to join: we placed sensors in a residential area to measure various forms of nuisance 24/7.
We were able to improve the living environment on the basis of the data. A great project in which the value of smart technologies has amply proven itself.
But the most important aspect of such projects is the courage to engage in the experiment, despite resistance from the environment. Smart city solutions are conceived at the drawing board, but only really come to life on the street.
TheMayor.EU stands against fake news and disinformation. If you encounter such texts and materials online, contact us at info@themayor.eu