Verfügbar in
Artikel teilen
Wine production is ever more central to the Pico Island economy
This is helped by legislative measures taken by the regional authorities
Freitag, 18. September 2020, 20:30 Uhr
Tzvetozar Vincent Iolov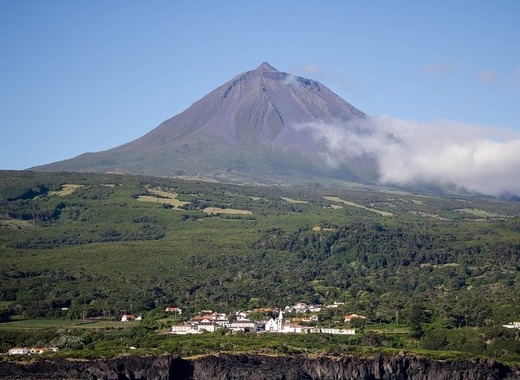 The Azores Regional Ministry of Agriculture and Forestry is of the firm opinion that the viticulture sector is increasingly becoming one of the main engines of the economy on the island of Pico. This was reported by the autonomous region's official website today in a reflection over the trends in this regard over the last several years.
Viticulture tradition on the island dates back to the 15th century
Pico Island is one of the islands in the autonomous archipelago of the Azores, a chain of verdant islands in the midst of the Atlantic Ocean. Pico is home to the highest point in the Republic of Portugal – a volcano called Mount Pico which rises to 2351 metres of altitude and had its last eruption in 1720.
The volcanic soil on the island has also led to the colloquial name of Ilha Preta (Black Island), which makes it contrast to the greenery of its brethren in the archipelago. That soil, however, is also the reason why the planting of vineyards has been possible pretty much since the island became populated in the 15th century.
The ancient tradition of viticulture has led to some impressive and unique landscapes due to the construction of basalt rock walls around the vineyards in order to protect them from the windy conditions in the Atlantic. These landscapes are eye-catching enough to have warranted their inclusion in the UNESCO World Heritage list.
"The strong tradition that wine production has on this particular island is undeniable, a know-how that has passed from generation to generation, allowing more and more people to dedicate themselves to this agricultural activity," said João Ponte, the Regional Ministry (Secretary) of Agriculture, who spoke at the end of a visit to the Pico Island Wine Cooperative (CVIP).
The idea of the authorities is to recover the historical strength and fame of Pico wines, which used to be exported all over Europe.
To that end, the current administration has been trying to ease the wine producers in their work. One of the measures was the construction and renovation of agricultural roads to the tune of 2.3 million euros.
Also in terms of aid for vineyard maintenance of the vineyard, granted through the EU POSEI (The Programme of options specifically relating to remoteness and insularity) program, there have been successive increases in beneficiaries, and growth of areas planted with varieties suitable for the production of DOC wines.
Statistics confirm that these efforts are having an impact. The number of wine producers has more than doubled in the past 5 years, to reach a number higher than 500. The wine production has gone from 280 000 litres in 2016 to 580 000 litres in 2019.
TheMayor.EU steht gegen falsche Nachrichten und Desinformation. Wenn Sie online auf solche Texte und Materialien stoßen, kontaktieren Sie uns unter info@themayor.eu