Available in:
Κοινοποιήστε το άρθρο
European Commission launches The Green City Accord
The initiative aims to make Europe's cities greener, healthier and cleaner
Πέμπτη 22 Οκτώβριος 2020 16:00:00 EEST
Anton Stoyanov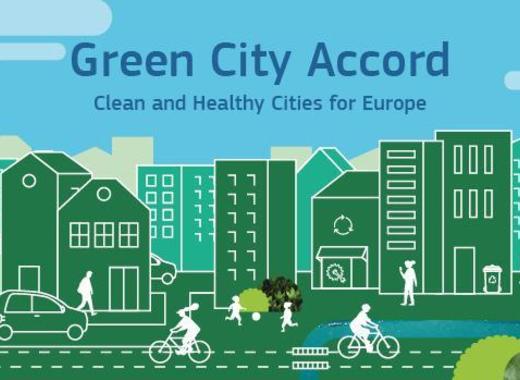 Πηγή: European Commission
Today, the European Commission is launching its newest initiative meant to tackle modern challenges in the urban environment – namely The Green City Accord, which will bring together mayors and local governments across the continent to work together on making their cities greener, cleaner and healthier.
Working together to overcome challenges
The threat posed by climate change is at the very heart of the Commission's flagship European Green Deal – and cities are among the most important actors in the Union's strategy to tackle environmental issues. Thus, The Green City Accord, which will bring together the continent's mayors and local representatives, will play a key role in making sure that green policies reach every citizen of Europe.
The European Commission invites all of Europe's mayors and local government officials who want to collaborate in tackling modern challenges change to sign up to the Accord, thereby committing to address five key areas of environmental management - namely air, water, nature and biodiversity, circular economy and waste, and noise. In each of these fields, the signatory cities commit to establishing common baseline levels and ambitious targets as well as implementing a wide range of policies to achieve said objectives.
As per the Commission's press release, all signatories endorse a shared belief for their common urban future, in which "By 2030, cities will be attractive places to live, work and invest in, and will support Europeans' health and well-being. All Europeans will breathe clean air, enjoy clean water, have access to parks and green spaces, and experience less environmental noise. The circular economy will become a reality and waste will be minimised thanks to greater reuse, repair and recycling."
By joining the Green City Accord, cities will not only take part in a continent-wide movement that places the health and wellbeing of citizens first but will also be able to shape Europe's future environmental policies. Furthermore, by committing themselves to the cause, local authorities will gain access to additional European funding opportunities for green projects and will be eligible for tailored and specific information and guidance on implementing and developing a wide range of policies.
TheMayor.EU stands against fake news and disinformation. If you encounter such texts and materials online, contact us at info@themayor.eu