5 Best Places to Visit in Slovenia
Explore a variety of vibrant cities, charming villages, snow-capped mountains and scenic beaches
May 05, 2018 18:00
Monika Dimitrova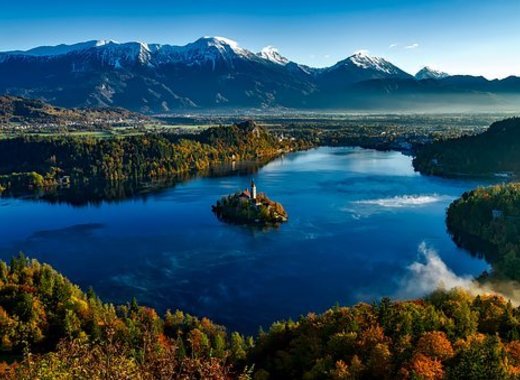 Source: Pixabay
Slovenia is a scenic country with a fantastic location in the heart of Europe. The nation is surrounded by the Eastern Alps, the Adriatic Sea, the Balkans, Italy, Croatia and Hungary, making it accessible from a range of European locations. Planning a trip to Slovenia is an opportunity to see a variety of destinations that include vibrant cities, charming villages, snow-capped mountains and scenic beaches.
Ljubljana is much smaller than most European capitals, but it has a unique charm that makes it worth a visit. A major attraction in the city is the Triple Bridge, where 3 picturesque bridges span the river right next to one another. You can also spot castles and medieval squares in the Old Town, see the original Roman city walls or relax in the popular Tivoli Park. As the capital, Ljubljana is also home to fantastic art and architecture museums, an impressive zoo, the Slovenian Philharmonic and the Slovene National Theater.
Serving as a gateway to the Triglav National park is Lake Bled, a scenic body of water surrounded by the Julian Alps. The emerald green lake isn't large, and it is possible to walk the perimeter in a single afternoon. What makes the destination so appealing is the small island in the middle of the lake, which is home to a 17th century church. You might also admire the Bled Castle and boasts magnificent views over the lake below.
If you want to get outdoors and explore some of the amazing natural scenery in Slovenia, then Triglav National Park is the ideal spot to visit. Most of the park is made up of the Julian Alps, with highlights in the region including the towering peak of Mount Triglav itself as well as the calm waters of Lake Bohinj.
Postojna is a must-see destination for travelers drawn to unique attractions and natural scenery. It is known for its extensive cave system, which boasts a staggering 20 km of chambers, hallways and galleries, some of which have ceilings nearly 50 meters high. There is even a train tour that takes you through parts of the cave system. North of Postojna is a medieval castle that is built into the side of a cave, creating a spectacular display of engineering that you have to see to believe.
On the coast of the Adriatic Sea, is the resort hotspot called Piran. The destination is reminiscent of Italy, which makes sense since it was actually part of the Venetian Empire for more than 5 centuries. Piran is small in size, but it is quaint, historic and scenic. History buffs might want to explore landmarks like the main square called Tartinijev trg, the oldest building in the city called the Venetian House and the Church of St. George.
Source: Touropia
TheMayor.EU stands against fake news and disinformation. If you encounter such texts and materials online, contact us at info@themayor.eu