A historical place for aeronautics opens doors in Toulouse
"L'Envol des Pionniers" marks 100 years of the first air postal service flight in France
December 30, 2018 20:00
Aseniya Dimitrova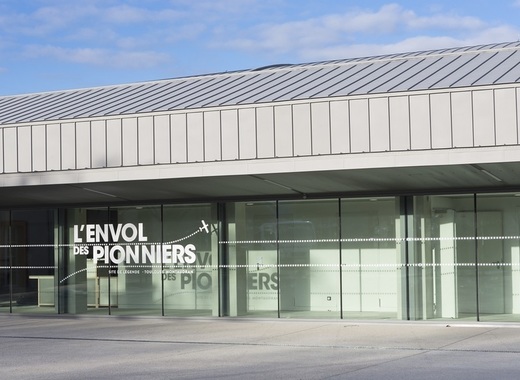 Source: lenvol-des-pionniers.com
The site "The Trial of the Giants" opened doors in Toulouse-Montaudran on 20th of December 2018 around a century after the first flight from Toulouse to Barcelona. It is part of a larger urban project "Toulouse Aerospace" that Toulouse Metropolis is willing to build in Montaurdan, which is a historic cradle of the aeronautics. The grand project looked too dangerous and almost impossible to the specialists at the time, as the air postal service had to pass above oceans, deserts and the second highest mountain in the world.
The Trial was constructed around the place where the pioneers of civil aviation used to take off. The legendary site now open for wide public allows to discover more than 20 prototype models of planes as well as the runway 1.8 kilometres long which is listed among the Historical monuments. This space, called "L'envol des pionniers", includes several buildings:
Château Petit-Espinet Raynal, 1000m2, which was once the headquarters of Latécoère and has always hosted the administration functions of the site.
General Store No. 30, 2700m2, adjoining the Castle, built in the 20s, has long sheltered the storage of aircraft parts.
The Maison de la Radio, built in the late 1920s, with a surface area 40m2, was the station emitting and receiving the messages of Aéropostale.
On December 25, 1918, Pierre Georges Latécoère took off from the airfield Toulouse-Montaudran with a Salmson 2A2 and landed in Barcelona later on, thereby creating the first French postal airline.
It is the Mayor of Toulouse and President of Toulouse Metropole Jean-Luc Moudenc who wanted the historic buildings to be rehabilitated in order to honour and make known the incredible epic of Toulouse that saw the birth of civil aviation. Here is what he said for TheMayor.EU: "It took us four years to bring this magnificent project to an end. Four years during which, step by step, we have conceived, matured, realized and refined this place of erudition and memory which pays tribute to the pioneers of civil aviation in general and the Air Mail in particular; we called it "Pioneer Flight". At the opening to the public, on 22nd and 23rd December - one hundred years after the first air connection between Toulouse and Barcelona - curious and enthusiasts will discover exceptional documents, unique historical objects, and even a flight simulator Bréguet XIV: the first aircrafts operated by Aéropostale as part of trans-Saharan crossings.
Realized on the historic site of the Latécoère lines company (turned into Compagnie Generale Aéropostale in 1927), the "Pioneer Flight" is linked to the Montaudran Giants Trail, where the Hall of Mechanics, the Gardens of the Line and the renovated Track are located. The latter, lust like a thread between the ages, links the Pioneers' Flight to building B612, where the electric aircraft of tomorrow is being constructed." (Full interview here)
The project has been realised with the cooperation of descendants of the pioneers of the French Air postal service and many associations. Find more information on lenvol-des-pionniers.com
TheMayor.EU stands against fake news and disinformation. If you encounter such texts and materials online, contact us at info@themayor.eu