Adult content exhibition at the Heritage library of Antwerp
Porn, pulp and literature provoke the visitor to discover a long-hidden part of Flemish literature and culture
December 27, 2019 21:30
Aseniya Dimitrova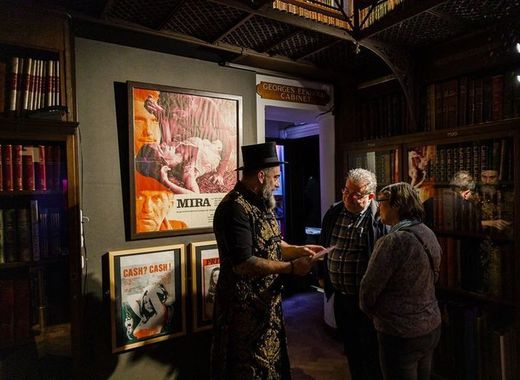 Source: consciencebibliotheek.be
Are you wondering what to do during the holiday season? Well, if you happen to be in Antwerp, we have a suggestion for you: visit the Porn, pulp and literature exhibition at the Hendrik Conscience Heritage Library and discover an important part of the Flemish literary and cultural history that has been carefully hidden for a long time.
The storage library for the humanities and Flemish literature regard pornographic materials as a fascinating indicator of the morals of the time and as such, dirty booklets cannot be missing from the offer, organizers believe. Knowing what type of content was considered offensive can tell much about the prevailing social norms and beliefs. At the same time, porn strives to appeal to a large audience, therefore it is expected to respond to the cultural clichés. Here is why the Heritage Library will be showing a wide collection of Flemish magazines dedicated to sex and pornography. Some of them have been sold over the counter, while others were clandestine, some were suggestive and others – more explicit, going all the way from pulp to literature.
Pornography in the Flemish region
As early as the nineteenth century, this type of magazines and novels were produced in relatively large quantities. In addition to that early form of pornographic mass production, erotic literature also appeared in the libertine tradition addressing a selective, elitist readership.
The production of pornography, especially popular magazines and novels has been growing exponentially in the course of the twentieth century. The peak was reached in the sixties, during the sexual revolution. Government and police were launching large-scale campaigns against the sale and distribution of pornographic and erotic printed materials, which took on increasingly explicit forms and were therefore still considered a form of public sex offense.
Leading literary authors were also not spared during that period. After the Second World War, the explicit sexual content penetrated more and more the 'regular' literature. As a result of strict police actions, the work of Jef Geeraerts and various literary magazines was confiscated. Hugo Claus, on the other hand, was sentenced to four months' imprisonment for bringing three naked men to the scene.
Since the 1980s, the market for pornographic novels seems to have collapsed almost completely. The focus has shifted to 'cinematic' porn, available on video tape, DVD and the internet. Yet, written porn and erotica are not condemned to death. Recently a niche of so-called soft pornography has emerged: erotic stories as an alternative to graphic internet porn.
How to visit
The temporary exhibition is taking place from Friday 6 December 2019 to Friday 14 February 2020 in Antwerp, Belgium and is open only to adults above 16 years of age. Visitors to Hendrik Conscience Heritage Library can discover publications, postcards, films, and readings. Tickets can be purchased online at consciencebibliotheek.be Guided tours with experts can also be arranged.
TheMayor.EU stands against fake news and disinformation. If you encounter such texts and materials online, contact us at info@themayor.eu