Alytus Economic Forum focuses on the city's sustainable future
The Lithuanian city wants to be able to recycle and reuse 100% of the waste it generates
May 23, 2019 14:30
Anton Stoyanov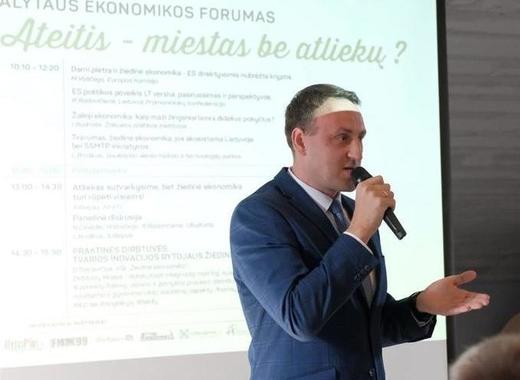 Source: Alytus municipality
Nerijus Cesiulis, Mayor of Alytus City, welcomed participants in the Alytus economic forum with a strong message regarding the future of the planet and leaving it intact for the coming generations. He paid specific attention to the issue of the circular economy and how everyone understands what it is and how it works but also how it should not only be a local focus, but instead a national priority. He emphasized the need to think about the bigger picture – not only about specific policies like how to dispose of paper or plastic bottles, but about a clear strategic goal and plan, a commitment to the preservation and wellbeing of the planet.
The importance of recycling and the circular economy were further underlined by the words of the Deputy Head of the Office of the European Commission Representation in Lithuania, Marius Vaščega. He presented the benefits and strengths of a circular economy and new approaches and philosophies to consumer culture – including waste management and recycling. The issue and the importance of the implementation of circular economy policies are becoming one of the hottest topics on a European level when it comes to combating climate change.
Like the article? Subscribe to our newsletter to receive the latest from the EU cities right into your inbox.