Amsterdam calls on citizens to hand in weapons anonymously; hundreds received
336 weapons were returned last week, in a campaign to make streets safer
November 11, 2020 19:30
Aseniya Dimitrova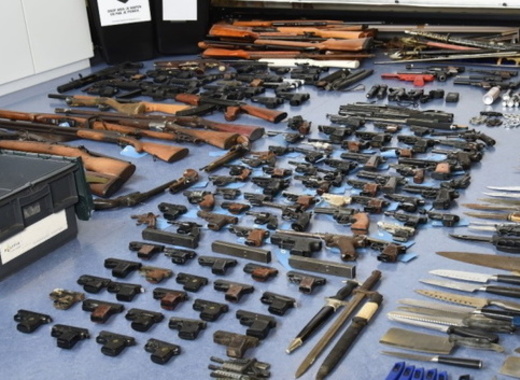 Source: City of Amsterdam
336 weapons returned in just five days: this is the aftermath of the first week of the campaign Amsterdam Disarmed (Amsterdam Ontwapent), aimed to make the streets of the Dutch capital safer. Anyone who had a weapon in their possession was given the chance to hand it in anonymously and with no repercussions between 2 and 6 November at 9 police stations in Amsterdam and Diemen (a municipality within the Amsterdam metropolitan area). The call proved surprisingly successful.
Owning a gun is not "cool"
Amsterdam Disarmed is a campaign that the city implemented together with the police, the Public Prosecution Service and citizens, with the objective to promote a safer city. The call was meant to get as many weapons off the streets as possible, but also to make young people aware of the serious consequences of gun possession.
Accordingly, the five days of the campaign led to the return of 336 weapons, including 68 illegal firearms, 34 fake firearms, 30 air guns and 24 legal weapons. "Legal firearms include starter pistols and antique firearms," ​​explained Inspector Dandy Marcuñe, action coordinator, as quoted on the municipal website of Amsterdam.
"We are very happy with this result, every weapon that is off the street makes the city a bit safer. 115 knives have been handed in and 65 other weapons, such as brass knuckles, blackjacks, electro-shock weapons and swords. There are also about 1000 pieces of ammunition handed in.
Very nice figures, but above all we hope that the action has ensured that we enter into a discussion about gun ownership. Many young people think it is cool to have a gun or think that they should protect themselves. But gun ownership leads to the use of weapons and that is certainly not cool," concluded the inspector.
Disarming Amsterdam
The campaign for safer streets continues this month and its efforts go well beyond the opportunity to return guns. On the website amsterdamontwapent.nl youngsters can discover masterclass with tips for more inner power and learn how to stay strong in difficult situations without resorting to a gun.
Furthermore, dozens of coaches are available to assist with topics like exercise for physical strength, mastering aggression, money management or simply to have a conversation. Even those who do not turn in a weapon can make use of the opportunity.
TheMayor.EU stands against fake news and disinformation. If you encounter such texts and materials online, contact us at info@themayor.eu