Available in:
Share article
Andris Rāviņš, Mayor of Jelgava: I am proud to say - Jelgava is city for development
We all together are responsible to work towards today's challenges – attracting youth and changing its way of thinking by developing digital competences, business skills and connecting science with manufacturing
February 13, 2019 09:30
Olya Georgieva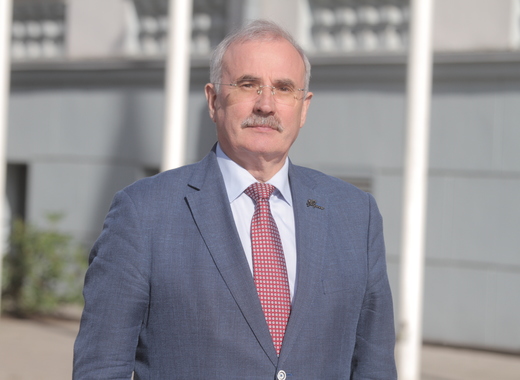 Source: Municipality of Jelgava
The City council of Jelgava has set out a plan to transform the city into a European heart for education, culture and sports, with general prosperity of the population and competitiveness in the Era of information technologies. Tell us more about what you have achieved so far and what you plan to do?
We, inhabitants of Jelgava, altogether create today of our city. I believe that the strength of Jelgava is in the ability to set clear aims and to work hard in any given situation. Appealing urban and work environment, organized daily life and kindergartens, schools and social support program – we together are interested to ensure long-term development of our city.
To be able to do everything mentioned, we have to have huge intellectual potential, that's why the education always has been one of our cities main priorities. We also have to have active interaction between entrepreneurs and science sector. Creation and use of innovations in business is today's question of survival. It creates new work places for our city and attracts financial investors in private sectors, especially in manufacturing industry which comes with high added benefits.
Education
Education is one of the most important fields for the development of our city. Jelgava city municipality has a wide range of high quality education for different levels. However, the general infrastructure of education is not optimized enough. We still have a lot to do to improve the environment for quality education – equipment modernization; access to pre-school education; attraction of new competent teachers; addressing the generational shift of teachers; creative and professionally oriented education environment and adaption of new ways of working with children and youth.
Jelgava is also known as a student's city. Latvia University of Life Sciences and Technologies that is located in Jelgava helps to provide possibility to achieve quality higher education without leaving the city or country. Most importantly, closeness of the University helps provide and assure city entrepreneurs with new and well educated specialists.
Jelgava city municipality is working towards lifelong education that helps manage and have one of the best work forces, providing that unemployment is one of the lowest in country. Jelgava city has created "Zemgale Region Human Resource and Competences Development Centre", which is one of largest competences centre in Baltic countries. Centre offers different courses and programs starting from preschool level till seniors. Centre also offers internationally recognised education programs "FasTracKids" and "Miniphänomenta".
One of our cities priorities is to give to our youth best we have – skills, opportunities and motivation to work hard towards their goals being competitive and well educated. Critical thinking and ability to use and analyse today's media content is one of the most important skills in today's information flow. Already we can see how quickly new technologies are coming in our daily life starting to replace human resource, simplifying and standardizing every day jobs. Which only can mean that in future many professions are not going to be needed. That is why we have to start to think how technologies is going to change our everyday duties, finding new way how to process information. Only values that technologies can't replace is human's emotional intelligence, empathy, creativity and critical thinking and that's why our city's one of the most important priority's is access to quality education.
Information Technologies
Efficient investments in city's infrastructure development has assured that Financial Times investment research department fDi Intelligence research "European Cities and Regions of the Future 2016/2017" has ranked Jelgava as 6th among micro cities (population up to 100,000) in Connectivity category. Jelgava also ranked as 9th in category "Strategy of attracting foreign investors". This is great assessment for Jelgava city's work with information technologies - city inhabitant's e-cards that gives special discounts for public transport and social services.
Jelgava is one of the first cities in Latvia that has created Municipality Operative Information centre that assures and coordinates information flow from inhabitants to municipality's establishments, entrepreneurs and operative help centres. Jelgava city have introduced new traffic flow and data management system, energy efficient city light solutions and operative information data monitoring, making Jelgava smart and safe city. Safety data monitoring is one of our municipality's priorities, 24/7 video surveillance have allowed to improve safety in city.
Culture and Sports
Jelgava is festivals city, with Baltics largest International Ice and Sand Sculpture festivals and unique Milk carton boat regatta etc. In 2018 International, ice sculpture festival celebrated 20th anniversary welcoming over 80 000 guests. In future or aim is to develop infrastructure that's dedicated to culture events - at the moment we are building specially constructed roof for open air concert hall.
Our city also offers wide opportunities to participate in sports activities and events. Jelgava city has "Jelgava child and youth sport school", "Jelgava specialized swimming school"; "Jelgava ice sports school" with quality sports training programmes that gives opportunity to achieve competitive professional sports education that's highlighted with high achievements in national and international competitions. City municipality offers many free open-air sports activities in summer, but in winter, everybody is welcomed to enjoy open air skating rink, which in 2018 got new specially constructed roof.
Jelgava is constantly changing and expanding while still being able to retain its historical heritage and mission as one of the oldest cities in Latvia. How do you manage to preserve the history of your city and at the same time to modernize it?
Jelgava cities cultural resource is historical, art and industrial heritage, which shows how valuable for our city is architecture, monuments, festivals and traditions. Cultural resources shows diversity of our skills and quality of our stage art, visual art and creativity.
Jelgava is only city in Latvia that has been terribly destroyed during both World Wars, losing remarkable part of its historical architecture. Because of that, one of the municipality's priorities is conservation of cultural heritage, which includes urban construction, architecture, art and historical monuments, creating Jelgavas as ex capital of Courland Duchy. Municipality by realising projects of cultural and historical objects renewal not only arranges infrastructure, but also creates new ways how to attract tourists using interactive methods giving deeper look in history of Jelgava and its uniqueness. One of the first renovated cultural heritage in Jelgava is Holy Trinity Church tower, which starting from 2010, when it opened, is one of the most visited tourism sights in the city.
With keeping of Cultural heritage and development of culture tourism municipality is working on next activities to renovate cities old town. Because of or history we have very small part of old town and it's in terrible condition, after renovation of wooden house in Vecpilsetas 14 and Vecpilsetas 2 building is going to be used as modern functional infrastructure for development of competitive business and tourism activities. Reconstructed old town's main aim is to create more likable city environment for organization of different cultural events – crafts markets, national cultural association's events, artist and musicians' performances promoting cooperation with different Zemagale region culture and tourism service providers.
The city is regarded as one of Latvia's industrial centers with highly developed infrastructure and historic manufacturing traditions. Does this recognition help you attract foreign investment?
Jelgava is developing as an industrial city in witch notable place takes manufacturing industry, which has gained remarkable results increasing production output turnover and export data. In 2017, manufacturing industry production output, compeering to 2016 has increased by 30% and production turnover by 30.3%. Together export created more than 72% from production turnover and comparing to 2016 it has increased by 2,8%, which shows Jelgava city manufacturers development and new export markets.
NP Jelgava industrial park management have done seemingly impossible – new manufacturers have used up all of parks 22 thousand square meter production facilities, which has only been exploited 2 years ago. We are proud of our entrepreneurs, which brings the name of Jelgava and Latvia in the world. In Jelgava city is located 20th largest Latvian export brand – "Latvijas piens" (Latvian milk). Our entrepreneur "Karameļu darbnīca" is Swedish business award 2017. finalist and has opened manufacturing in Tallinn, Estonia. November 2017 in NP Jelgava industrial park territory started working chocolate manufacturer "Chocolette Confectionary" offering 70 new working places, entrepreneur is working with turnover 1 949 030 euros and in 2018 has produced around 1000 tonnes of chocolate.
We are proud of our entrepreneurs, which year by year is mentioned in largest tax payer rating and in addition of that constantly supports education, sport and culture activities in Jelgava city – Ltd "AKG Thermotechnik Lettland", Ltd "Evopipes", Ltd "Ceļu būvniecības sabiedrība Igate", joint stock company "PET Baltija", Ltd "LUWO" etc.
In 2017, the amount of foreign investments accumulated in Jelgava city companies has increased by EUR 12,26 million. The biggest contribution to the increase of investments has come from a purchase of shares in Ltd "Latvijas piens" – EUR 12 014 100
The balance between newly created and liquidated companies in Jelgava is the best among large cities (By the end of 2017 there was registered 245 new entrepreneurs in Jelgava).
In Jelgava, we have created conditions to support entering of new investors and development of entrepreneurs. Our "Zemgale Region Human Resources and Competences Development Centre" provides lifelong education programs, which includes courses and requalification for employees. Supporting new entrepreneurs, in Jelgava city territory is located one of the 14 "Investment and Development Agency of Latvia" business incubators. Entrepreneurs is one our cities biggest capitals and potentials in global competition. Today the development of one or the other territory is no longer governed by purely national policy or geographical location, but the capacity of the territory to support new investors entering.
Jelgava has historically been one of the centers of science and research in Latvia. Tell us more about what your future plans in this direction?
City's science and research potential is linked to the Latvia University of Life Sciences and Technologies (LLU). University's research base has created new innovative products and technologies. Scientists research results is creating additional possibilities for local business development.
Jelgava business incubator experience shows that scientists and executives close cooperation gives excellent production results – high – quality biological food for children and natural cosmetics, construction material testing and drones technologies – we can do it if we put together all of our system and knowledge's. Our cities priority is interested and active inhabitant starting from early age until seniors.
We all together are responsible to work towards today's challenges – attracting youth and changing its way of thinking by developing digital competences, business skills and connecting science with manufacturing.
Tell us more about the Jelgava Development Strategy. What did you manage to achieve until now in this direction?
Latvia large cities are our countries main force. We are the ones who have to support and work towards – new work places, availability of services, development of entrepreneurship, attraction of investments and agriculture produce sales market.
Jelgava city development is based in two long-term territory development strategies – development strategy 2007 – 2020 and territory planning 2009 – 2021, as well as mid-term planning document – Jelgava city development program 2014 – 2020. Based on city's existing resources and development time plan, Jelgava city specialization is:
Economically developed science, technologies and innovations center with specialization in food, wood – working, engineering and metalwork fields;
Education, culture, tourism and sport center with in Europe recognized university, regional professional and life – long education center, international and national meaning culture and sports events, as well as remarkable tourism objects;
Internationally and nationally recognized logistic center Europe transport network – TEN – T core network and wide motorway, railway knot with high mobility possibilities.
Development of the attractive living and work environment is one of the municipality's priorities to develop and become the main force of neighbor territories development template. Only by promoting creation of new working places, providing accessible services and qualitative living and work environment, qualitative road network and comfortable public transport system connecting Jelgava with neighbor territories, we can create circumstances for people to want to live, work and rest in our city.
For the period of 2007 – 2017 the municipality in project form has attracted investments around EUR 220.5 million.
In 2007 – 2013 planning period one of the municipalities priorities was the adjustment of transport infrastructure, realizing important projects, creating modern and qualitative underground and over ground technical infrastructure, providing qualitative accessibility to city center and effective transport units flow decreasing number of traffic accidents and creating attractive living environment. Large part of realized projects was directed towards urban environment development increasing attractiveness of the city, development of tourism, diversification and increase of the quality of our culture life working towards "Jelgava as festival city" and increase of quality services and accessibility of different free time activities.
In 2014 – 2020 planning period we are working with different integrative projects, solving problems in economical, environmental, climate, demographical and social fields. Noticeable investments are put in the improvement of transport infrastructure which are directly affecting economical productivity and is new foundation for creation of new, well paid working places and increase of living environment quality.
We can proudly say that – Jelgava is city for development!
You have open days every first and third Monday of the month from 15 till 19. Does this help you stay closer to your fellow citizens and understand their needs better?
Regular open days have become an important part of the planning of urban and citizen's welfare settings in Jelgava. By practicing individual open days, we can better understand the problems and find the best solution that is acceptable for our inhabitant as well as municipality. Our inhabitants are actively taking part in open days to meet with heads of municipality, asking different questions like every day problems, financial support and problems in urban improvements etc.
How do you find the idea of a unified platform for all European cities where European citizens can get information about everything happening in the Union? How could this platform be useful for your projects?
We are looking forward to this platform with great expectations. In today's world when everything is changing and developing so fast and our information flow is so wide it is very important and useful that all information can be found in one place. It is important for us to carry the name of our city together with our great projects, and we hope that the readers of this platform get to know Jelgava better.
TheMayor.EU stands against fake news and disinformation. If you encounter such texts and materials online, contact us at info@themayor.eu