Available in:
Share article
Annemarie Penn-te Strake: Men and women add something different to resolving global challenges
Ahead of International Women's Rights Day, we speak with Annemarie Penn-te Strake, Mayor of Maastricht, Netherlands
March 06, 2020 09:30
Aseniya Dimitrova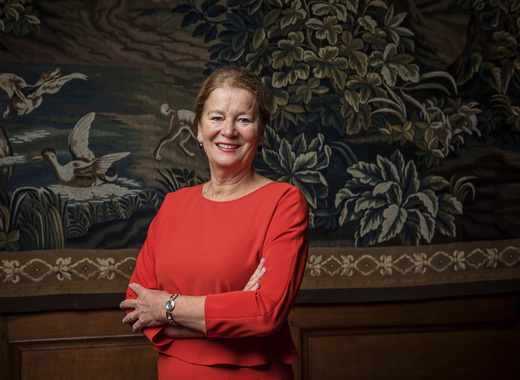 Source: Annemarie Penn-te Strake / Municipality of Maastricht
Happy International Woman's Day, Ms Mayor. Would you tell us in brief about your path and challenges you faced before being appointed to this prestigious political position?
I was born in 1953 and have been the mayor of Maastricht since 1 July 2015. Between 1987 and 2006, I worked at the Judiciary where I started as a deputy judge and later served as a judge.
In 1998, I was named vice-president of the court of law in Maastricht and two years later I became the coordinating vice-president. In 2006, I became the chief public prosecutor of the Maastricht District Court Public Prosecutor's Office.
In 2012, I joined the Board of Procurators General at the Public Prosecutor's Service in The Hague.
As mayor, I am responsible for Integrated Safety and Public Order, Regional and Euregional Cooperation, Public Affairs, Lobbying, Communication, Supervision and Enforcement, and Traveller Site Issues.
Do you think that being a woman has made any difference – in a positive or negative way - in your career development?
No, I hope not. I don't think the fact that I'm a woman has had a positive or negative impact, it's about quality, your personality and how you see yourself.
Do you think that today's women are involved enough in vital debates?
A little more could be done, I see a lot of men involved in important discussions, but women in the press could also make a greater contribution to the debates. We may always do more.
How can the women's voice contribute to resolving global challenges?
Men and women both add something. Women can contribute to tackling problems on a global scale making use of their specific strengths and characteristics. Women have a nice balance between head and heart. But it's always a question of mix.
Where important decisions are made, the population is what counts. Women are different from men, they have a different way of making decisions and judgments, which is why the balance is so important.
Tell us a bit more about the place of women in your municipality: to what extent do they exert influence on local policies and what is their role in shaping city life?
Maastricht has got women in the city council and the municipality and the mayor is female. Our civil service is also a reflection of society.
And how about the situation with women in the city? Do you implement any particular policies in favour of protecting equal rights and guaranteeing their protection?
We are tackling sexual harassment. We do this in the area of ​​prevention and repression. There is no policy to get women specifically in certain positions, that would not be correct either.
What does your typical day at work look like?
A typical day for a mayor does not exist. I am, for example, chairman of the council and the college, police and security authority, figurehead, mayor for our residents. In addition, I am committed to cooperation in the region and Euregion. Every day is different.
What advice would you give to young girls who are willing to embrace the difficult career of politician?
Start by being interested in what is going on in society. Ask yourself if you are really interested in that. See if you feel the urge to contribute to solving problems. Then look for parties that match your ideals. This is possible both politically and organisationally in modern society.
TheMayor.EU stands against fake news and disinformation. If you encounter such texts and materials online, contact us at info@themayor.eu