Available in:
Share article
Apply now to win the 2020 Transformative Action Award
On top of the recognition, there are also 10,000 euros in store for the winners
April 07, 2020 17:30
Aseniya Dimitrova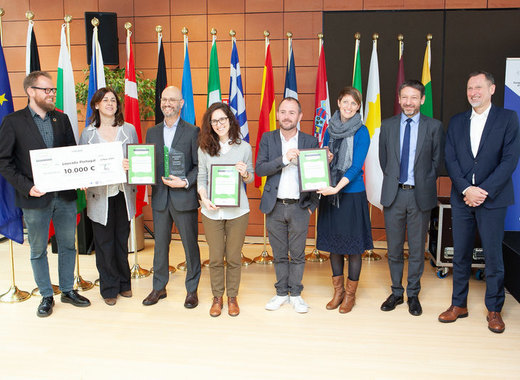 Source: 26th meeting of the ENVE commission and the Transformative Action Award ceremony / CoR on Flickr (CC BY-NC-SA 2.0)
Is your city or region doing well in terms of sustainable urban transformation? Are you a civil society organisation working in the field? If yes, apply now and get the chance to win the 2020 Transformative Action Award – an important recognition, which comes together with the amount of 10,000 euros to fund further transformative actions.
Why reward sustainable urban transformation?
"As a result of COVID-19, we face extremely challenging situations in Europe and beyond. As the pandemic unfolds, local and regional governments are assuming a strong role in safeguarding the health of their citizens. The potential of local governments and civil society organisations in ensuring a good quality of life for their residents has never been clearer" reads the website of ICLEI, one of the organisers.
Thus, the award is given in recognition of the importance of creating sustainable, resilient, and liveable cities. This year's edition is dedicated to transformative actions carried out by European cities, regions, or civil society organisations that use the 15 pathways of the Basque Declaration to bring about the socio-cultural, socio-economic, and technological transformation of their community.
Who can apply?
The actions that can be rewarded reflect local or regional contributions to the implementation of the Sustainable Development Goals (SDGs) and the Paris Climate Agreement. They must demonstrate a high degree of innovation and therefore be inspirational to others in Europe.
Local or regional authorities, civil society organisations located in an EU Member State, EEA country or EU candidate or accession country that have endorsed the Basque Declaration can apply.
The application period is currently open and will last until 31 July 2020. Submissions are accepted via the Sustainable Cities Platform.
Apart from the important recognition and the financial incentive, aimed to kick-start a Transformative Action, the winners will get several advantages. These include:
Promotion via the Sustainable Cities Platform and the information channels of ICLEI
Publicity in publications about sustainable development
A trophy and the right to be called 'Transformative Action of the year 2020'
Digital 'Transformative Action of the year 2020' icon for use on websites, Social Media accounts and in email signature
Free entrance to the 9th European Conference on Sustainable Cities & Towns – Mannheim2020 (Sep 30-2 Oct, Mannheim, Germany)
The Transformative Action Award is organised jointly by ICLEI, the Basque Country and the City of Aalborg, Denmark. It is supported by the European Committee of the Regions (CoR) and the European Investment Bank (EIB).
TheMayor.EU stands against fake news and disinformation. If you encounter such texts and materials online, contact us at info@themayor.eu