Aude Lagarde: The top is not reserved only for men
8 questions to Madame Aude Lagarde, Mayor of Drancy and departmental councillor
March 07, 2020 10:00
Aseniya Dimitrova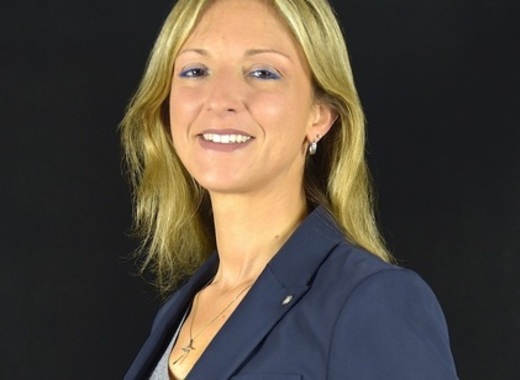 Source: Aude LAGARDE / Ville de Drancy
Aude Lagarde has been the Mayor of Drancy, France since 2017 and a former deputy mayor. In this conversation, she speaks about her political career and priorities and the voice of women in politics.
Ms Lagarde, could you tell us in brief about the path and challenges that you encountered before reaching this prestigious political position?
My desire to get involved in public life started at a young age. More specifically, it was while accompanying my grandfather, who was a flag bearer at all the patriotic ceremonies that were organized in my department of Aude, that I decided that I would work for the benefit of others and the society.
At 19, I was thus elected municipal councillor of my village located in the South of France in Villeneuve-la-Comptal, one of the youngest elected officials in France at that time. Subsequently, like many students, I went to Paris to continue my higher education at the Sorbonne and I settled in the city of Drancy.
In 2001, I joined the list of Jean-Christophe Lagarde, the only candidate to present a real project for the town in which I have been living for 3 years. Defying all forecasts after decades of communism, our list won in 2001. Jean-Christophe Lagarde was elected Mayor and I became Deputy Mayor in charge of social affairs.
Later, what happens to a lot of people in the professional world, Jean-Christophe and I fell in love, we got married and had four children. I was able to see up close, both as Deputy Mayor and as a wife, the difficult, exhausting and demanding mission that a Mayor must fulfil.
Thanks to this function, I was able to develop many services for the retired, the disabled and, more generally, the most vulnerable, who are at the heart of my municipal commitment.
In 2004, I was elected regional councillor, then departmental councillor in 2015.
Since 2017, I have been mayor of the City of Drancy and I am a candidate for re-election in March 2020.
Do you think being a woman has made a difference – in a positive or a negative way - in your career development?
Being a woman in politics in France, even in 2020, is obviously not easy.
Even if it should be admitted that mentalities are progressing more and more, women who wish to get involved in politics are always the subject of a multitude of critics and their legitimacy is constantly questioned; resistances are tenacious and the trials of incompetence are numerous…
Evolving in the political arena turns out to be a real obstacle course for women. Thus, we must multiply every day the efforts to prove that we have the required skills, that we know how to preside over the destinies of our city and that we are legitimate in our functions.
All this under a rain of sexist attacks (physique, posture, outfits, etc.) that we find plenty of on social networks in particular.
When I was elected mayor of Drancy, my political opponents did not attribute this election to my merit, or even to my work (even though I had been an elected official since 2001, too), but to the fact that my husband had held this position just before me.
Suddenly, all the work I had done as deputy mayor for more than a decade was gone, only my private life was judged. This would have never been done to a man!
Do you think women today are sufficiently involved in critical conversations?
If women today successfully occupy some of the most strategic positions in the world (Angela Merkel, Christine Lagarde, Nancy Pelosi, Ursula Von Der Leyen, Mary Barra, etc.), the fact remains that the majority of the most prestigious functions are still occupied by men; the masculine prevails everywhere, especially at the top.
However, I am convinced that the world would be much better if women had more say.
How can women's voices help solve global challenges?
Since the dawn of time, the world has been ruled by men. And we cannot say that the results have always been very fortunate!
The global challenges facing us are vast, complex and interconnected and cannot be resolved without the work and voice of women, alongside those of men. So, let's roll up our sleeves and bring concrete, effective and lasting answers to these global challenges!
Tell us a bit more about the place of women in your municipality: to what extent can they influence local policies and what is their role in shaping urban life?
Within my municipal team, 9 women are deputy mayors and 6 others have a delegation.
Among the portfolios distributed: the environment, education, culture, housing, urban renewal, early childhood and the success platform.
I did not wish to confine women to delegations classically assigned to women, because women are not just able to "take care of children" but can also have a sharp technical eye on Habitat for example, or on the complete renovation of a district of Drancy (Gaston Roulaud) that we have started.
Quite often, I have noticed that by entrusting complex files to women, we realize that the subject will be studied very thoroughly, from all angles, sometimes more than if we had entrusted it to men.
And what about the situation of women in Drancy? Do you implement specific policies to protect equal rights and guarantee their security?
Whether through my actions or those of my predecessor, we have always worked for women in our commune. Among the most significant actions that we have implemented:
Actions in favour, in particular, of working-class neighbourhoods so that women can reclaim public space;
Continuation of the feminization of street names;
Creation of a new college bearing the name of Aretha Franklin;
Creation of a fresco in memory of Simone Veil in order to raise awareness of the population about her life and her political struggles;
The implementation of a plan to re-light the streets so that residents, especially women, feel more secure when they return home;
The implementation of educational support for young people from disadvantaged neighbourhoods, in particular, to support them towards excellence.
In addition, as Mayor and Departmental Councillor of Seine-Saint-Denis, I fight so that all the police stations in our department can have social workers. This would, inter alia, support women when they are victims of violence or abuse.
Finally, my ambition is to develop many places in nurseries so that childcare is no longer a constraint for parents and especially for women so that they can work and be independent.
What does your typical day at work look like?
As the Mayor of a city of nearly 70,000 inhabitants and a mother of four children, I work every day of the week, including weekends:
I receive many people, listen to them and see how the municipality can solve their problems;
I attend and participate in numerous events and public meetings;
I write and sign many letters (tenders, recruitment contracts, etc.);
I manage many daily services for residents and lead a team of 1,800 employees;
I also take care of my children whom I pick up from school every day, or at least as often as possible.
What advice would you give to young girls today who want to embark on the difficult career of politics?
Simply go for it! The world will change when women become aware that they are legitimate, that they do not need the approval or the go-ahead from men, and that they can occupy any position they desire.
The top is not reserved just for men. The more women occupy important positions, the more mentalities will change; this virtuous circle exists, I contribute to it alongside so many other women, come and help us develop it!
TheMayor.EU stands against fake news and disinformation. If you encounter such texts and materials online, contact us at info@themayor.eu