Available in:
Share article
'Bee Loud' project raises awareness about the urgency of wildlife preservation
Schoolchildren in the Irish village of Kilcolgan will plant a garden and write "buzzy poems" about bees and biodiversity
October 29, 2019 10:30
Plamen Petrov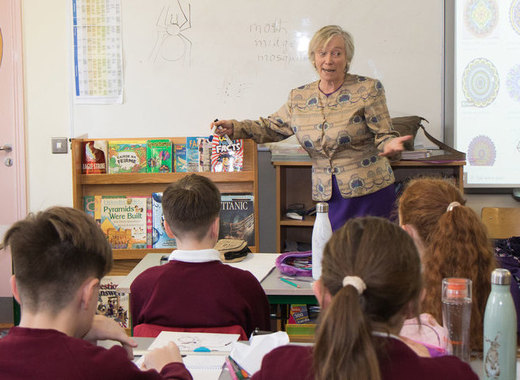 Source: Galway2020 European Capital of Culture
Sure, we all know that bees make delicious, healthy honey. But what we tend to forget is that they are also the world's most important pollinators of food crops. So, the mass extinction of bees on a global scale, due mainly to the use of pesticides on crops, but also to rising temperatures and proliferation of contagious parasites, cannot but ring a very, very loud alarm bell.
This threat to a vital component of wildlife has become the focus of Bee Loud, a fresh project involving teachers and students at Kiltiernan National School in Kilcolgan - a small village in south Galway. The project's name has been inspired by the imagery of Nobel Prize winning Irish poet William Butler Yeats, who, in his poem The Lake Isle of Innisfree, describes local landscape as a "bee-loud glade".
Bee Loud will involve schoolchildren in planting a native garden, hearing lectures and taking part in workshops dedicated to Irish plant heritage and biodiversity. Some of them are preparing a powerpoint on the value of biodiversity and wildflowers on road verges and in public parks. Adding art to science, schoolchildren will have a chance to express their own viewpoint on the topic through the magic of creative writing. Poet Denise Blake will be their guide in composing "buzzy" poems that are a tribute to sustainable growth, wildlife and Men's longstanding companions, the bees.
Urging Galway County Council to make policy changes
Bee Loud will climax in exhibitions opening on 8 May 2020 in the school, garden centre, local cafés and neighbouring Coole Park. They will feature documentation of the project's various stages plus an arresting visual display of the intricate honeycomb, where each student will add a personal, hexagonal cell.
Armed with the newly acquired knowledge and experience, the children will present their findings before the Galway County Council at the Council Chamber next summer. Bríd Fenlon, deputy principal of Kiltiernan National School said in this connection, "We feel this project raises awareness but more importantly works towards a simple, effective way to make a change for good. It is starting small but hopefully leading to policy changes in how Councils maintain and landscape our roadside and gardens."
Bee Loud is part of the Galway 2020 European Capital of Culture Small Towns Big Ideas programme. The programme celebrates 'Meitheal'– the ancient Irish tradition of working together for a common purpose.
Like the article? Subscribe to our newsletter to receive the latest from the EU cities right into your inbox.