Biking circuit around Lake Tisza is complete
The last section of the 67-kilometre cycle path was handed over on Saturday
June 22, 2020 13:00
TheMayor.EU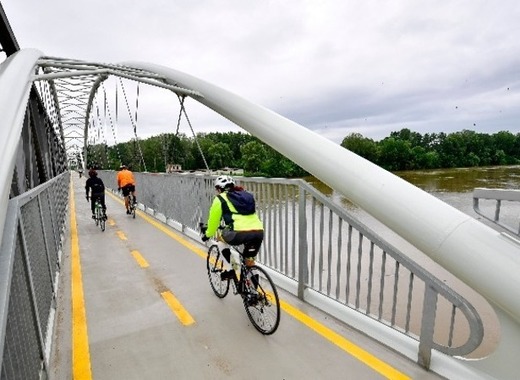 Source: Photo: MTI / Zsolt Czeglédi
The last section of the 67-kilometre cycle path built around Lake Tisza, Hungary's largest artificial lake, became operational on Saturday, MTI reported. The 6,5-kilometre stretch between Tiszafüred and Poroszló, running along the main road 33, was built for HUF 3,1 billion. The safety of cyclists is ensured by the physical separation of the 2,5-metre-wide cycle path from the road, and four bridges were built as part of the development.
Prominent tourist destination
During the handover ceremony, Minister of Innovation and Technology László Palkovics said that the development is basically in line with its tourist purpose, it respects the beauty of the landscape and fits into the natural environment.
At the event, Government Commissioner for Active Hungary Máriusz Révész observed that the Lake Tisza bike circuit is important for all settlements in Heves and adjacent counties, helping the region to become a prominent cycling tourist destination. Two international cycling routes meet at Lake Tisza and the new section is expected to double the number of cyclists around the reservoir to around 100 000 by 2021. He added that the government is also supporting the reconstruction of lookout towers and boosting water tourism.
Cycling infrastructure to reach 15 000 km by 2030
Of the more than 9 000 km cycling facilities currently available, 4000 km are independent cycle paths or walking and cycling paths. Between 2014 and 2020, significant developments are underway with domestic and EU funding, totalling more than HUF 200 billion.
The existing network will be expanded with 2000 km of new independent cycle paths in the foreseeable future, while the total cycling network will approach 15 000 km by 2030, Palkovics said. As part of the ongoing developments, he mentioned the rehabilitation of the Balaton Bike Circuit, the construction of the Budapest-Balaton connection and the pending completion of the cycle path between Eger and Egerszalók.
The minister recalled that the maintenance of cycle paths had previously been the responsibility of local governments, but in the absence of uniform operating practices, there were significant differences in the quality of maintenance and the condition of each section. Saying this, he defended the government decision to involve Magyar Közút Nonprofit Zrt., which manages the 32 000-kilometre state road network, to handle the maintenance of the new cycling section as well.
The minister's words touched a raw nerve, as opposition-controlled local authorities complain that the Fidesz ruling party is stripping them of financial independence, centralizing the allocation of reconstruction funds. As of April, the government is also diverting vehicle tax from local governments and has imposed a special tax on banks and retailers as part of its plan to finance the coronavirus recovery.
TheMayor.EU stands against fake news and disinformation. If you encounter such texts and materials online, contact us at info@themayor.eu