Available in:
Share article
Brussels launches working group on decolonisation of public space
The institution wants to ensure a peaceful debate on a highly sensitive topic
November 04, 2020 19:30
Aseniya Dimitrova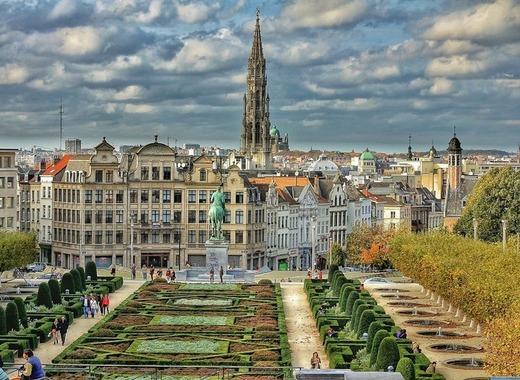 The Region of Brussels has just unveiled the composition of its newly established working group on decolonisation of public space. The 16 persons who made it to the final selection, can start discussions on the future of colonial symbols in the Belgian capital as early as this month.
A controversial topic for Belgium
Earlier this year, a widespread debate on the meaning of colonisation sparked across Europe triggered by the Black Lives Matter protests in the USA. The presence of numerous colonial symbols on display in public spaces caused not just criticism, but also acts of vandalism across Belgium.
Among the targets of protest actions and petitioners are the statues, streets and parks named after King Leopold II, whose rule (1865-1909) is associated with atrocities in Africa and the killing of 10 million inhabitants of the Congo.
In an attempt to ensure a broad and argument-based debate on the topic, the public service urban.brussels responsible for urbanism and cultural heritage launched in July an open call to the public to apply to the working group "Decolonisation of public space in Brussels".
Some 84 people hailing from different parts of the country applied and 16 were selected, based on their expertise in the topic of decolonisation, heritage, colonial history and the Burundian, Congolese or Rwandan diaspora, explains the cabinet of Pascal Smet, State Secretary for Urbanism and Heritage. The group includes people with journalistic, law, academic background, representatives of urban.brussels, the association of Brussels-based municipalities Brulocalis, the Royal Commission for Sites and Monuments CRMS and the mobility service Bruxelles Mobilité.
"I am pleased that all these people want to participate in the working group. That they want to think together about how we can write a common future for Brussels by acknowledging our colonial past and, above all, recognising the mistakes. There may be things that need to be erased, but they should certainly not be forgotten. This working group will ensure that the debate is conducted in a serene manner among various experts from civil society, science and the diaspora. Brussels does not have a dominant culture. Many people in Brussels have a common past, but above all we have a common future" Smet was quoted saying on the occasion.
It is expected that the working group will hold its first meeting online in mid-November and elects a governing body. Its task will be to prepare a final report with advice, concrete actions, supported by an action plan on the decolonisation of public space.
The report should be submitted to the Government of Brussels by the end of 2021, which will take into account the recommendations before taking regional actions for the decolonisation of the public space.
TheMayor.EU stands against fake news and disinformation. If you encounter such texts and materials online, contact us at info@themayor.eu