Bulgaria's "Sinite Kamani" Nature Park launches tourist site "adoption" campaign
An information board will be placed on each "adopted" corner, indicating who takes care of it
August 23, 2020 15:00
Monika Dimitrova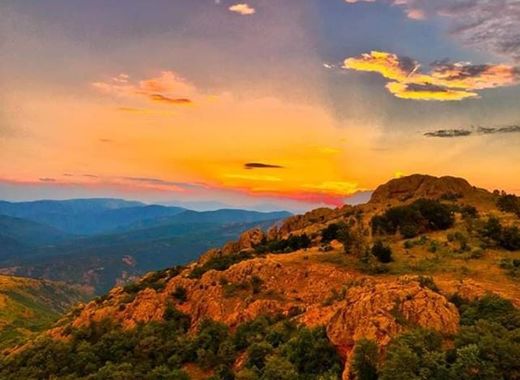 Source: Facebook/Природен парк Сините Камъни Сливен | Nature park Sinite Kamani Sliven
The management of the Bulgarian Nature Park "Sinite Kamani" (Blue Stones) announced on its website the start of a campaign for the "adoption" of tourist sites. The sites available include trails, recreation areas, shelters and other tourist areas located on the territory of the park.
Constant care and voluntary work
The park's administration boasted that over the last few years they have repaired a total of 55 km of hiking trails, have renovated the park's infrastructure, including viewing platforms, the "Woodpecker" children's playground, the Health Alley, as well as a number of children's facilities, bridges, tables with benches, shelters, corners for recreation, fireplaces etc.
The maintenance of all these sites, however, requires constant care. In order for them to be in good condition and to serve and delight tourists, a lot of care is necessary, which, at this stage proves to be impossible for the park's management.
In order to preserve its new acquisitions, created through a lot of work and financial resources, the management of the Nature Park "Sinite Kamani" has compiled a list of its most visited tourist sites, which it offers up for "adoption". The commitments of the future "adopters" will include cleaning and maintenance of the selected site with voluntary work. An information board will be placed on each "adopted" corner, indicating who takes care of it.
How and where?
Anyone who wants to join the initiative can find additional information on the park's website. Registering for "adoption" happens after filling in a form in the Directorate of the National Park "Sinite Kamani" in the town of Sliven, at 1B Tsar Simeon Blvd.
The Nature Park "Sinite Kamani" is one of the most beautiful and romantic parts in the entire Eastern Balkans. It is located in the Eastern Balkan Mountains and covers an area of ​​11380.1 ha.
The site was declared a national park in 1980 and expanded in 2002 to preserve Moesian beech communities and covers rare and endangered species of flora and fauna, as well as their habitats. Within the park, you can find immeasurable natural resources, including many plants and animals specific to the present climate and terrain.
TheMayor.EU stands against fake news and disinformation. If you encounter such texts and materials online, contact us at info@themayor.eu