Chairman and founder of TheMayor.eu Boyan Tomov in a meeting with Georges Dassis, President of the European Economic and Social Committee
"TheMayor.eu will bring Europeans closer", states the President of EESC
November 13, 2017 16:56
Stanimira Lukanova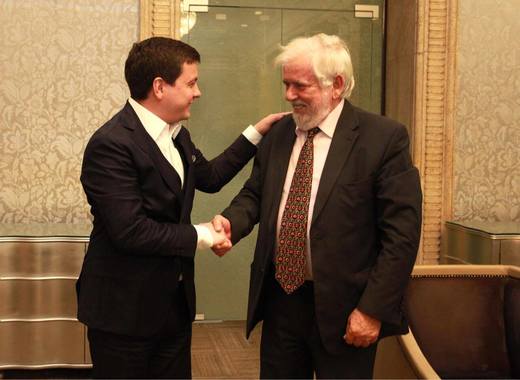 Source: Krasimir Svrakov
"I fully support your initiative for the Portal of the European Municipalities - TheMayor.eu and the eventual organizing of "Mayor of Europe" competition." This was stated by the President of the European Economic and Social CommitteeGeorges Dassis during his meeting with the Chairman of Euro Advance Association and founder of TheMayor.eu - Boyan Tomov. Mr Dassis confirmed that the platform will bring closer the European municipalities in economic and social plan. He also added that he supports all similar initiatives that aim at bringing citizens together.
Boyan Tomov presented the Portal of the European Municipalities - TheMayor.eu which provides information about the good practices implemented in the municipalities of the Old Continent. It is a channel for communication between citizens and between mayors as well.
"We provide an opportunity for more publicity as the other mayors do and the Platform shows everything to everybody", stated the chairman of Euro Advance Association. He also spoke about the plans to organize a "Mayor of Europe" competition, the winners of which will be announced in Brussels.
Mr Dassis supported the idea and determined it as very good because it will open a discussion between mayors of not only big municipalities but also smaller ones. Above all, this will give the smaller municipalities an opportunity to gain experience from the bigger ones.
TheMayor.EU stands against fake news and disinformation. If you encounter such texts and materials online, contact us at info@themayor.eu