Available in:
Share article
Christmas traditions in Poland
Discover the traditional dishes, customs and habits of Polish people for the Christmas holidays
December 24, 2018 10:00
Aseniya Dimitrova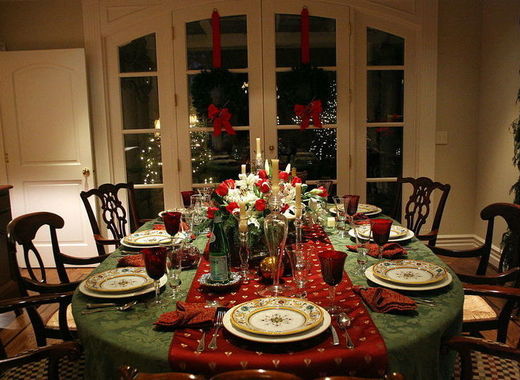 Source: Austin McGee on Wikimedia
Christmas celebrations are the culmination of the annual cycle of festivities and accordingly, they occupy a very special place in the homes of Polish citizens. Traditionally, Christmas is celebrated with a range of family rituals.
To start with, it shall be underlined that Christmas Eve is a time reserved for the closest family. First of all, at Christmas Eve the tree is decorated by the whole family, which is customary since the XIXth century, originating from cities, to become widely popular across the country. Moreover, Polish houses would be decorated with green branches of fir, spruce or pine, as well as sheaves of wheat and rye, hay and straw. Usually, a handful of hay would be placed underneath the tablecloth, seldom accompanied by placing a fish scale or a bone into the wallet as an omen for prosperity.
In contrast to the low temperature, Polish people are known as very warm and welcoming, which can be observed on Christmas, too. A custom exists to put aside a portion of the Christmas meal and set a table aside for unexpected guests, which shall also remind of those who are no longer with us.
When the first star appears up in the sky, the holiday dinner would begin by prayer, wishes and sharing a wafer called opłatek which symbolizes the holy bread. Normally, 12 meatless dishes shall be prepared for the evening and all ought to be tasted, as a reference to the twelve Apostles or the twelve months.
You might already be familiar with the typical Polish dishes, such as the soup with mushrooms (barszcz or borszcz), dumplings stuffed with onion and cheese (pierogi), and dried fruits drink (compote) or kutia – made of poppy seeds and boiled wheat with honey. However, essential for the festive dinner is to consume fish, preferably carp or pike. The dinner is complemented by carols, gifts exchange, often – by attending the Christmas Mass (Pasterka).
On the next Christmas Day, the extended family gathers together for another festive dinner. Do not be surprised if an unexpected visitor, disguised as a goat, a horse, a stork or even the Death calls on the doorbell during the following days: it will be a traditional caroler, coming to wish you happy holidays, in exchange of a small gift. Do not send him away: he brings the Star of Bethlehem and love and joy to your household.
Source: Ministry of Foreign Affairs of the Republic of Poland