Available in:
Share article
Dietenbach - the new eco-district in Freiburg
The new district will be equipped with a modern public transport system, active mobility dominating infrastructures as well as car-sharing possibilities
March 01, 2019 19:30
Olya Georgieva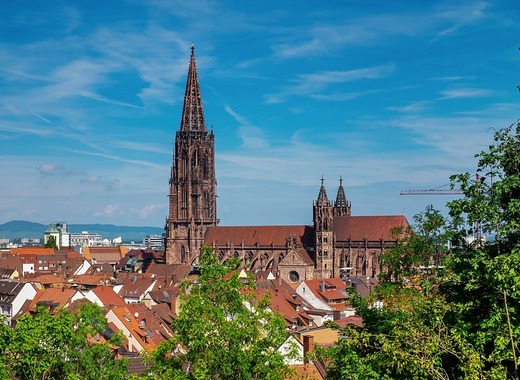 Source: Pixabay
On Sunday (24 February 2019), the German City of Freiburg im Breisgau decided on the prospect of the construction of a new eco-district called Dietenbach. The green light was given by 60% of the citizens who went to vote in the referendum, initiated by a local initiative. The new neighbourhood is regard by the City Council, and now publically approved by the citizens, as the solution to increasing pressure on housing and rents, while at the same time not allowing compromising Freiburg's climate neutrality target of 2050.
The planned climate-neutral housing development has been the subject of heated public debate in Freiburg. The city's high quality of life has long made it a sought-after location. It is growing fast, with record birth rates over the past years and close to 25 000 more people expected to join by 2030, what is putting increased pressure on infrastructure and public services. Housing is in high demand, with ever more people on the waiting list for emergency accommodation and rents well above the German and EU average.
As a response to the housing crisis, the City announced plans for the development of a new climate-neutral district – the first of its kind in Freiburg and Germany. Dietenbach has been promoted as a green, people- and family-friendly neighbourhood. It foresees the construction of approximately 6,500 flats, but also schools, kindergartens, businesses and services, with 60 hectares to remain open and green spaces. City planners say that, although the development will lead to a loss of green space, key cooling corridors will be retained as well as a local biotope. The new district will be equipped with a modern public transport system, active mobility dominating infrastructures as well as car-sharing possibilities. Energy-efficient construction, green roofs and facades, solar energy and the use of alternative (waste) heat sources will ensure its climate-neutrality. Moreover, last year the City Council reconfirmed Freiburg's 50% quota of social housing for new development projects, also to be applied in Dietenbach, to make it affordable also to people with modest incomes.
What triggered the controversy was that it is to be built on an area currently made up of farmland and woods, about four kilometres west of Freiburg's city centre. Last year, a group of opponents to the plan calling itself Rettet Dietenbach (save Dietenbach) gathered the over 15,000 signatures necessary to force the City to put the issue to a public vote. The group condemned the loss of biodiversity and arable farmland to accommodate the development. They advocated for an alternative, dispersed development approach to address housing needs, including building on top of existing apartment buildings and over assets such as car parks. However, the lead urban planners of the city argued that these options are already implemented where possible and are too slow due to diverse private interests involved case-by-case to mitigate the pressure on affordable housing significantly.
As Wolfgang Teubner, Regional Director for ICLEI Europe (headquartered in Freiburg) puts it, "from the point of view of sustainable development, Dietenbach is no dream project. But it is a necessity in order to maintain social harmony and social integration in the city. It should be clear to all involved that this district will only be widely accepted if it develops sustainably and viably, that is, meeting the challenges and demands post-2050."
ICLEI Europe is partnering in "C-Track 50 – Putting regions on track for carbon neutrality by 2050". This EU-funded project mobilises and guides more than 120 public authorities in 11 countries in defining long-term energy policy priorities, promoting multi-level governance and supporting the development, financing and implementation of Sustainable Energy and Climate Action Plans (SECAPs). The aim is precisely to contribute to achieving climate resilience and carbon neutrality by 2050. The planned Dietenbach district is a good example of how local authorities can actively contribute to this goal.
"By demanding and designing a climate-neutral district with a fifty percent quota of social housing," says Carsten Rothballer, Coordinator for Sustainable Resources, Climate and Resilience at ICLEI Europe, "Freiburg is responding adequately to global and local challenges alike. For the first time, the City rewarded only those public offers in which tenderers designed an energy concept as an integrated part of the urban plan. The selected offer proved that this approach should be applied in any future urban development to remedy the build-up of unaffordable rents, but not compromising Freiburg's long-term goal of climate neutrality by 2050."
Source: iclei-europe.org
TheMayor.EU stands against fake news and disinformation. If you encounter such texts and materials online, contact us at info@themayor.eu