Available in:
Share article
Discover the rain gardens of Gdansk
Small retention facilities can help increase the resilience of cities
August 30, 2019 14:30
Aseniya Dimitrova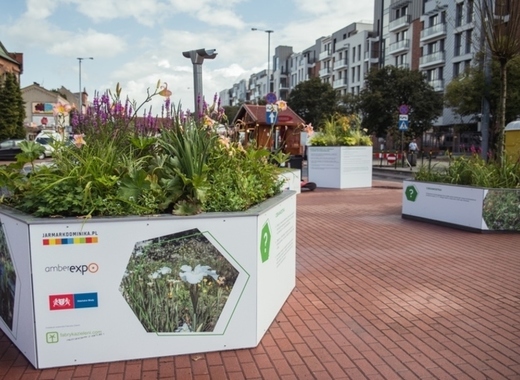 Source: Dominik Paszliński / www.gdansk.pl
Gdansk boasts new water retention facilities as of this month. Four rain gardens, three small retention parks and a "backyard" retention system between residential buildings were installed in the Polish city. The total area of ​​small retention facilities is nearly 20 hectares which can collect nearly 1.5 thousand cubic meters of water.
The purpose of these small retention facilities as an adaptation measure to climate change in the field of water management is to increase the resilience of cities, emphasizes Ryszard Gajewski, president of Gdańsk Waters. This is associated with a simultaneous solution to the problem of managing excess water and its insufficiency a result of prolonged periods of drought. At a time when consumption of raw materials, including water, should be reduced, it is very important to treat rainwater as a resource, he believes. That is why the municipal service encourages investors and residents to design objects with the least nuisance to the environment and such based on natural solutions.
The gardens are located at Długie Ogrody Street, at the height of the church of St. Barbara and the intersection with ul. Łąkowa, The installation represents three types of rain gardens: wet, dry and mixed. All compositions were prepared from plants "for special tasks", i.e. those that not only retain, but also purify rainwater from nearby areas. This also allows for unloading the rainwater sewage system and delaying the flow of rainwater.
In growing agglomerations, instead of passing through the subsequent stages of the hydrological cycle, water evaporates too quickly or flows down sealed surfaces and does not seep into the ground. This means that it does not supply ground water, which may cause a water deficit. Ultimately, the infiltration process stops, and surface runoff is accelerated, while retention and evaporation are reduced. Green retention facilities help solve this problem, explains Ryszard Gajewski.
Such initiatives are likely to proliferate in the coming years in the context of climate change. Furthermore, everyone can build a rain garden and benefit from rainfall instead of wasting valuable tap water for irrigation. What type of garden to use depends on the land in which it will be built. If the soil is water-permeable, then specialists recommend arranging a dry rain garden that will infiltrate, i.e. allow water to penetrate deeper layers of soil. In the case of impermeable soil, such as clay predominating, the best solution is to create a wet rain garden.
More on the topic on Gdansk.pl.
TheMayor.EU stands against fake news and disinformation. If you encounter such texts and materials online, contact us at info@themayor.eu