DLR responds to Covid-19 with a shift to walking and cycling
The 'Coastal Mobility Interventions' plan envisages a 3.6 km segregated 2-way cycle path from Blackrock to Dún Laoghaire along a one-way lane for motor vehicles
June 18, 2020 13:00
TheMayor.EU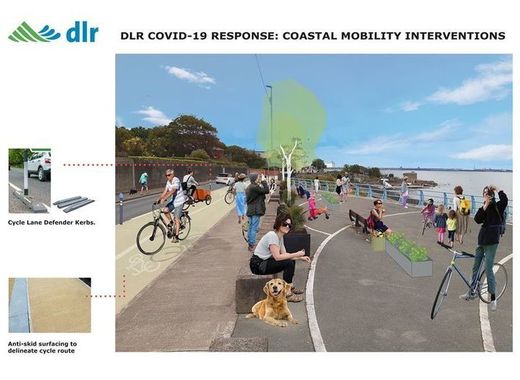 Source: DLR
Dún Laoghaire-Rathdown County Council (DLR) announced yesterday its new initiative, 'Coastal Mobility Interventions'. According to the press release, it is aimed at promoting and facilitating a dramatic and necessary shift to walking and cycling along the strategic coastal transport corridor in Ireland.
Reallocation of roadspace makes cycleway possible
The plan envisages the installation of a new 3.6 km section of temporary, segregated 2-way cycleway from Newtown Avenue in Blackrock via Seapoint Avenue, through Dún Laoghaire to Sandycove and the Forty Foot bathing area. This will be done at the expense of existing road space, by the introduction of a one-way traffic for vehicles, on Seapoint Avenue (N31), Queen's Road, Windsor Terrace and Marine Parade.
DLR's design team is currently finalising the design details and consulting with stakeholders including the Gardaí (Police), NTA, Transport Infrastructure Ireland, Dublin City Council Signal Traffic Control and the local community and businesses. Works are supposed to start in early July 2020 and the infrastructure will take about 3 to 4 weeks to complete. In implementing these interventions, DLR is receiving technical and financial support by the National Transport Authority (NTA).
Key considerations behind the project are rooted in health and safety concerns: months of lockdown have taken their toll on people's physical fitness, and even before the pandemic, pedestrians and cyclists have been the most vulnerable road users. Apart from making walking and cycling in DLR safe, this set of critical mobility interventions aims to make physical movement enjoyable for all ages and abilities.
The plan takes into account current Government public health recommendations advising people to switch to walking or cycling and to avoid using public transport unless they absolutely need to. The provision of segregated cycling infrastructure will ensure that the current limited public transport capacity can be reserved for commuters, people embarking on essential journeys and those who have no access to alternative transport.
Boosting local businesses and tourism
The temporary cycling corridor also presents a significant opportunity for local businesses and tourism. To this end, plans are underway for the development of pedestrian and cycling links to the towns and villages along the route. Also, there are ample opportunities for the creation of 'Pop-up Spaces' – rest areas on the cycling route or close to village centres complete with cycle parking stands, public seating and vegetation.
TheMayor.EU stands against fake news and disinformation. If you encounter such texts and materials online, contact us at info@themayor.eu