Dutch mayors swim to fight cancer
14 recreational swimming events will raise funds for cancer research in the Netherlands
August 21, 2019 19:30
Aseniya Dimitrova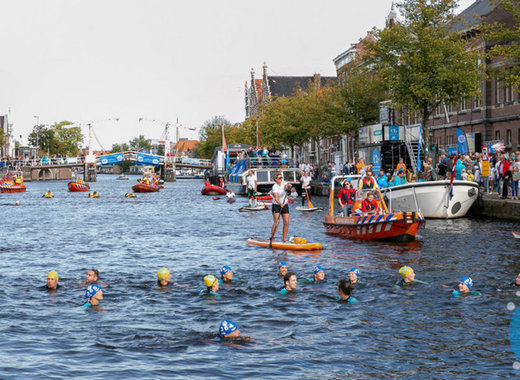 Source: fightcancer.nl
Upcoming in September is a nation-wide initiative in the Netherlands, aiming to fight cancer. Swim to fight cancer is a massive public recreational swimming event with a charitable purpose. A series of local events will take place over the next few weeks with the objective to collect funds which will be versed into scientific cancer research and prevention through the Dutch Cancer Society. The ultimate goal – to ensure that cancer will no longer be a deadly disease in the future.
Participants chose one or more competitions and in teams or individually swim 2 kilometres and try to raise as much as possible for the cause. Last year over 3 000 people joined the event raising over 1,8 million euro. In 2019 there will be 14 events across the country where charity swimming will take place – Tilburg, Breukelen, Hoorn, Maastricht, Nijmegen, Eindhoven, Giethoorn, Gooise Meren, Dordrecht, the Hague, Delft, Breda, Amersfoort and Bosch. Some mayors have already embraced the initiative announcing that they personally will take part in the sports activity. The first event took place in Hoorn - 14 July 2019 and the rest will be held until mid-September.
However, if one doesn't feel like swimming, they can easily donate money or become a fundraiser and share the invitation with friends and acquaintances. Learn how at fightcancer.nl
Like the article? Subscribe to our newsletter to receive the latest from the EU cities right into your inbox.