EU Commissioner Mariya Gabriel responds to citizens' concerns for the future
At an event hosted by the European Commission in Bulgaria, Commissioner Gabriel engaged in a back-and-forth with citizens
January 31, 2020 13:00
Anton Stoyanov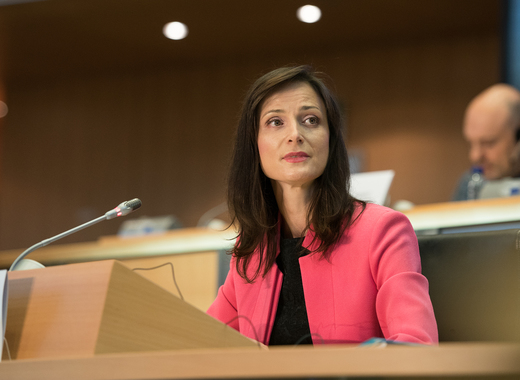 Source: Hearings Mariya Gabriel (Bulgaria) - innovation and youth by European Parliament from EU [CC BY 2.0)]
At an event hosted by the European Commission in Bulgaria, EU Commissioner for Innovation, Research, Culture, Education and Youth, Mariya Gabriel presented the Union executive's approach to the future.
The event called Horizon Europe: Science responds to modern challenges, is part of the wider EU Dialogues initiative that aims to establish a link between the Union's institutions and citizens.
The EU's Horizon Europe programme aims to take science and innovations outside of the classrooms and laboratories and to use them to improve the lives of all citizens by streamlining funding and research initiatives into several key mission areas – namely Adaptation to climate change including societal transformation; Cancer; Healthy oceans, seas, coastal and inland waters; Soil health and food; and of course Climate-neutral and smart cities.
Engaging with citizens
The event itself, as the initiative's name, #EUDialogues, would suggest, was a constant back and forth – with Commissioner Gabriel taking questions directly from citizens and answering their concerns about the Horizon Europe programme and the EU's overall approach to the future.
Here are some of the most interesting answers Commissioner Gabriel gave to citizens:
On the topic of investments and funding for private research initiatives, she stated that any projects that take part in the Horizon Europe programme will have the EU's technical prowess at their disposal – but it all depends on the budget it manages to secure.
The budget is a key issue for the future and the prospects of the Horizon Europe programme. Commissioner Gabriel adamantly defended the need for more spending on science and innovation as they will play a key role in shaping Europe's future.
Citizen engagement is also of the utmost importance. Mariya Gabriel revealed her intentions to embark on a tour of every capital of every EU member state in order to talk to citizens and discuss the priorities of the key mission areas. "Sometimes citizen expectations and wants are different to the things that are being discussed by board members," she stated and believes that that must be remedied through dialogue.
Brain drain was also a significant concern among citizens. EU commissioner Gabriel stated that it is high time for a change in wording – to transform brain drain into brain circulation. She discussed several initiatives spearheaded by the EU Commission aimed at promoting a return of scientists and citizens to their home countries.
In summary, Commissioner Gabriel reiterated the Commission's approach to citizen engagement – as without the proper input of constituents, all the work done by EU institutions might be for nought.
TheMayor.EU stands against fake news and disinformation. If you encounter such texts and materials online, contact us at info@themayor.eu