Fingal Coastal Way to become a flagship tourist amenity
The proposed walking and cycling route will encourage active recreation while serving as an alternative transport option
November 27, 2019 18:30
Plamen Petrov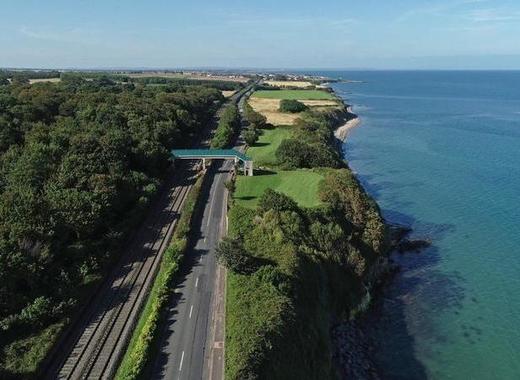 Source: Fingal County Council
Fingal County Council's project team has launched a series of public engagement events to discuss the development of the Fingal Coastal Way.
The proposed project envisages the creation of a walking and cycling route along the scenic coastline that will connect the townlands of Newbridge Demesne, Donabate, Rush, Loughshinny, Skerries and Balbriggan.
The Council bills the Fingal Coastal Way as "high quality, safe, attractive and environmentally sympathetic".
According to the Council, the proposed rural and urban greenway will spur recreational activities such as walking, jogging and cycling. Apart from that, it will serve as a lucrative alternative transport option for school children and commuters. In a nutshell, the project promises health, environmental and economic benefits to Fingal that cannot be brushed aside.
Commenting on the project, Mayor of Fingal Cllr Eoghan O'Brien said: "I look forward to seeing this project, which will undoubtedly become a flagship tourist amenity for Fingal, becoming a reality. It will connect to the proposed Broadmeadow Way, which will link Donabate to Malahide. The Council is delivering a network of greenways to encourage sustainable transport for community and leisure."
Greenway infrastructure a key priority for the Council
The proposed scheme is still at an early stage so the interests of local stakeholders must be aligned prior to the development of potential route options. Therefore, Fingal County Council views the public engagement evenings as the ideal venue for special interest groups, local residents, businesses and landowners to learn more about the project, share opinions and resolve differences.
The provision of greenway infrastructure is a key priority for Fingal County Council. As Chief Executive AnnMarie Farrelly explained: "Greenways deliver tremendous benefits in terms of economic development and recreational amenity, and can also play a key part in Climate Action."
Like the article? Subscribe to our newsletter to receive the latest from the EU cities right into your inbox.