Gdansk celebrates 15 years since the Polish accession to the EU
Main point of the official programme this weekend is cycling through the tunnel under the Martwa Wisła – the biggest investment project in the city
April 24, 2019 19:30
Aseniya Dimitrova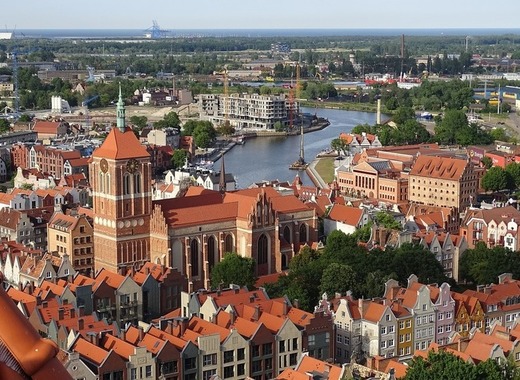 The membership of Poland in the European Union turns fifteen this year. This is a joyous occasion that cities across the country are celebrating with the appropriate festivities. Emulating the EU motto "United in diversity", the festive programme planned by Gdansk municipality to celebrate the anniversary, is based on the city's rich diversity. From 28th April to 1st May, get ready for a long list of celebrations. Here are the main events:
Cycling through the tunnel under the Martwa Wisła
April 28, at 10.30 / square at the Energa Gdańsk Stadium
The tunnel under the Martwa Wisła (now Archbishop Tadeusz Gocłowski's tunnel) turns 3, which will be celebrated with collective anniversary bicycle trip. The tunnel is the largest investment project in the history of Gdańsk, mostly financed by EU funds. The total construction cost of the tunnel amounts to PLN 880.8 million - PLN 748.7 of which come from the EU. The tunnel is one of the elements of the construction of the Trasa Slowackiego, which cost PLN 1.41 billion in total, of which EU co-financing amounted to over PLN 1 billion.
Raising together the flag of the European Union
April 29, at 11.30 / parking lot on Ołowianka
Visitors will create a big blue flag together, decorated with 12 stars, similar to the one of the EU. Event participants will receive the blue cards needed to build the flag from the organizers.
Singing together the anthems of Poland and the EU
May 1, at 12:00 / Długi Targ
#DziejUEmy - under this common slogan many Polish cities will celebrate Poland's 15th jubilee as member of the European Union. One of the common elements of celebration is singing the Polish anthem and the EU anthem – Ode to Joy - at noon on May 1.
Concert "United in diversity" - 15 years of Poland in the EU
May 1 at 20.00 / Ergo Arena
United in diversity - 15 years of Poland in the EU - is the title of the concert that will take place on the 1st of May in ERGO ARENA in Gdańsk - one of the spectacular sports facilities constructed thanks to European funds (co-funded by the EU with PLN 40 million). Musicians and artists will be experimenting with performances, drawing inspiration from different musical genres and current events in the world. During the concert, songs related to fundamental values ​​in the life of every human being, such as love, freedom, respect and independence, will be performed.
Read more from Gdansk.pl.
TheMayor.EU stands against fake news and disinformation. If you encounter such texts and materials online, contact us at info@themayor.eu