Available in:
Share article
Get a free tree or a birdhouse and adopt a bee in Arnhem
The preventive measure applies in the districts of the Dutch city threatened the most by summer heat
January 29, 2020 19:30
Aseniya Dimitrova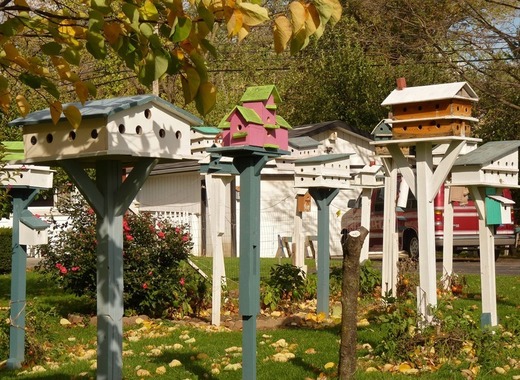 Source: slinkle / Pixabay
From January 20 to February 20, residents of the inner-city districts of Arnhem (Netherlands) can register for a free tree and/or a birdhouse for their garden or balcony. The measure comes as a result of the extreme heatwaves that hit Europe last year and aims to arm citizens better in case of recurring episodes.
Free trees and bird houses
According to the municipal website, in the 10 districts (Binnenstad, Nieuwe Kadekwartier, Arnhems Broek, Spijkerkwartier, Klarendal, Sint Marten, Coehoorn, Kronenburg, de Overmaat en Rijkerswoerd West) chances are higher for high summer temperatures. Furthermore, the number of birds and insects is decreasing in these areas.
Even if it rains, the water cannot escape and streets and gardens are flooded. Hence, replacing tiles with trees, shrubs and flowers makes it less hot and allows for the rainwater to quickly filter through. Finally, choosing the right trees and shrubs means that butterflies and bees are better nourished. The nest boxes give birds a good place to breed, says the municipality explaining why they will be helping citizens acquire them.
Alderman Cathelijne Bouwkamp expects warm reception of the campaign. Quoted by Arnhem.nl, she said that "last summer many people suffered from the extreme temperatures that ravaged our country. The temperatures are rising enormously, especially in places where there is a lot of stone and concrete…More trees ensure more animals and therefore more biodiversity."
For the campaign, the municipality of Arnhem sets aside limited funds, distributed on a first come, first served basis. Residents of the ten Arnhem neighbourhoods can pick a tree and / or nest box on the municipality's internet site. The first trees can be collected on 18 March, National Tree Day at three locations: Presikhaaf city farm (north), The Korenmaat city farm (south) and De Molenplaats Sonsbeek (near the central station).
Plant a tree, adopt a bee
In addition, a local biodiversity foundation will be launching 'adopt a bee' campaign. As Arnhem Zoemt explains, planting the same plants in several gardens in one neighbourhood forms one large habitat for a special type of wildlife. Hence, from March they will be advising on the design of the garden and the choice of garden plants so as to create a large habitat together for a special bee.
TheMayor.EU stands against fake news and disinformation. If you encounter such texts and materials online, contact us at info@themayor.eu