Get ready for Las Fallas 2019
Part of the intangible cultural heritage of humanity, the international festival in Valencia is a triumph of the humour, satire and creativity
January 06, 2019 17:00
Aseniya Dimitrova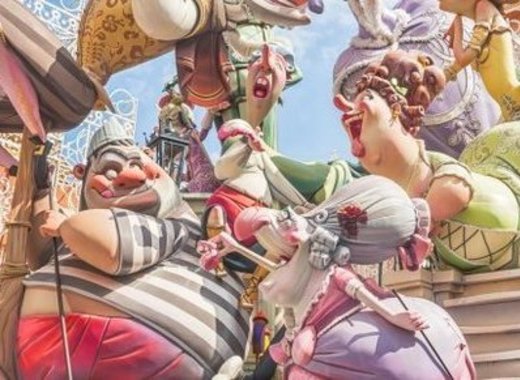 Source: Pixabay
If you are eagerly waiting for the arrival of nice weather and searching for new travel opportunities, you better start planning a visit to Valencia. The Spanish community is hosting a world-renowned international festival which celebrates the triumph of the humour and satire. Las Fallas festival has been declared Intangible Cultural Heritage of Humanity and is organized under the patronage of UNESCO. The main part of it is taking place during several days of March, but some very interesting events are already expected in February.
The historical notes for the Fallas date back to the 18th century, where the towns in the community of Valencia used to celebrate the arrival of the spring days with bonfires of woods and unused furniture. Later on, dolls were added as means to criticize the behaviour of neighbours, which was commonplace back then. Now the Fallas commissions are an integral part of the organization in the neighbourhoods and are charged with the charity events and cultural activities throughout the year.
Unique arts and crafts, fireworks, music, tradition, literature and open air museums: this is only a tiny bit of the wonderful surprises for the upcoming edition. 800 fallas monuments made of cardboard and wood are waiting to be seen by young and adults. The official clothing of the festival dates from the 18th and 19th centuries, and brings colour and charm to the festival. Core element of the festival is fireworks, which accompany other festive activities.
Among the major events part of the festival programme are:
The Ninot Exhibition – from beginning of February to 15th Ninots are figures from the scenes of fallas monuments and are burnt at the end, except for the one which has collected the most votes of the public and therefore – is pardoned;
The Crida – the inauguration ceremony with the participation of the Fallas Queen of Valencia and her Court of Honour and the city authorities;
The Mascletàs – an amazing pyrotechnics show lasting for 5 to 7 minutes, every day from 1th to 19th March;
The Plantà – the beginning of the Great Fallas week and the flower offering to the patron saint of Valencia, Virgen de los Desamparados;
The Cremà – the event with highest international popularity where all fallas monuments are put on display and burnt collectively in the early hours of 19th to 20th March, thereby marking the end of the festival.
770 monuments and 150 artists are expected this year.
Source: Visit Valencia
Discover more: Visit Valencia
TheMayor.EU stands against fake news and disinformation. If you encounter such texts and materials online, contact us at info@themayor.eu