Giving the warmth of home to destitute children in Kaunas
The municipal campaign aims to rekindle public interest in long-term childcare
December 12, 2019 13:00
Plamen Petrov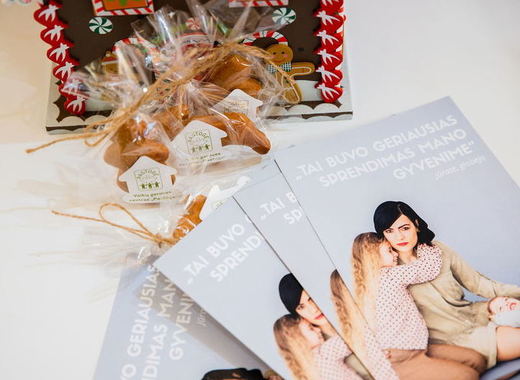 Source: Kaunas municipality
During the Christmas season, the "Akropolis" shopping and entertainment center in Kaunas, Lithuania will be transcending its usual purpose. A cozy home-like consultation space on its ground floor will be open to residents wanting to learn about possibilities to help destitute children by becoming caregivers.
The consultation booth will be staffed by the Children's Welfare Center "Pastogė" employees. Throughout December till January 5 the consultation space will have dedicated professionals ready to answer visitors' questions and interested residents will learn more about the different forms of childcare, the opportunities to become a caregiver, the stages of preparation, the training and the benefits of becoming a caregiver. And, occasionally, real caregivers who have taken this serious decision and motivated many families with their stories, will come to chat with Kaunas residents.
That was the best decision in my life
"While being caregiver, I discovered the meaning of life and was able to express myself. When I saw the obvious changes in children, I realized that the effort was not in vain. Everything has more meaning than it may seem at first glance" – says social caregiver Violeta, quoted by the PR department of Kaunas municipality.
The consultation space at the "Akropolis" shopping center is a key part of the Kaunas Municipal Social Advertising Campaign that aims to to stimulate public interest in long-term childcare. The campaign was launched in the spring and was renewed on December 2. Its message reads: "That was the best decision in my life".
After changes in childcare system several years ago, Kaunas popularized the idea of becoming a caregiver with the proposal of "Best Work". This year the campaign has been updated and given a new slogan, emphasizing everyone's responsibility and the importance of this decision to become a caregiver.
Denying the myths
Gražina Didžbalienė, Director of "Pastogė", reveals that during the spring campaign no less than 9 families decided to apply, inspired by the published caregiver stories.
"There are so much unjustified myths in society that are completely unrealistic. It is our duty to deny them and make as many people as possible to become aware of changes in the childcare system… Professionally trained caregivers and their homes are an incomparably better environment than that of a government care homes. At the same time, we help children's parents to solve their problems so that the kids can return to their safe homes and cohesive families," adds Gražina Didžbalienė.
TheMayor.EU stands against fake news and disinformation. If you encounter such texts and materials online, contact us at info@themayor.eu