Grenoble turns to citizens for the handling of the health crisis
An experimental consultative body is helping the French city improve the local coronavirus response
November 10, 2020 17:30
Aseniya Dimitrova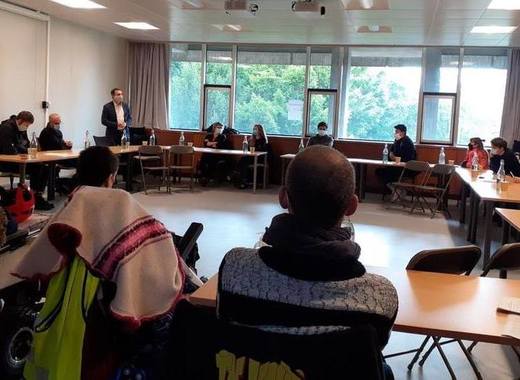 Source: Éric Piolle on Facebook
Faced with a second wave of the coronavirus pandemic, Grenoble decided to fine-tune its approach to handling the health crisis, by relying on its citizens. Over the weekend, the city launched the first meeting of the Citizen Convention – an experimental public consultation body, aimed to improve local decision-making.
The Convention, composed of randomly selected citizens and other stakeholders, is meant as a platform for discussion on the latest measures adopted by the local authorities, consultation about the needs and preoccupations and therefore – a place to identify the potential risks, as seen by the citizens themselves.
Redefining the local approach to the crisis, thanks to citizens
"As the pandemic is getting worse, Grenoble is launching a Citizen Convention on Covid-19. 220 motivated citizens of Grenoble, drawn at random and representatives of associations will share their priorities and refine public action". This is how the Mayor of Grenoble Éric Piolle summarized the nature of this new tool of local democracy, launched in the midst of the pandemic.
As described on the official website of Grenoble, the Convention is composed of at least 120 inhabitants from the six sectors of the city, drawn at random from the phone directory, one-third of them aged below 25. In addition, there is a joint panel of voluntary representatives from local groups (associations, unions, collectives, etc.)
No more than 30 participants at once should convene for a half-day meeting at the City Hall once a month, between 7 November until 3 April 2021. The members are invited to debate and give their opinion on the measures that will be presented to them and to raise their concerns about the health crisis.
The composition of participants at each meeting should be different, with each member limited to 2 participations. In parallel, the Convention will send specific questions to all or some of the registered participants ensuring distant involvement.
Finally, the reports of the Citizens' Convention should be made available after each meeting, thus informing all residents of the opinions presented, as well as the feedback that will be given to elected officials and City Hall services.
TheMayor.EU stands against fake news and disinformation. If you encounter such texts and materials online, contact us at info@themayor.eu