Have you already voted for your favorite MOBILITY ACTION? Do this until December 19 by 12.00 pm Brussels time
The one with the most likes and shares will be invited to join the sustainable urban mobility workshops in March!
December 17, 2018 17:30
Olya Georgieva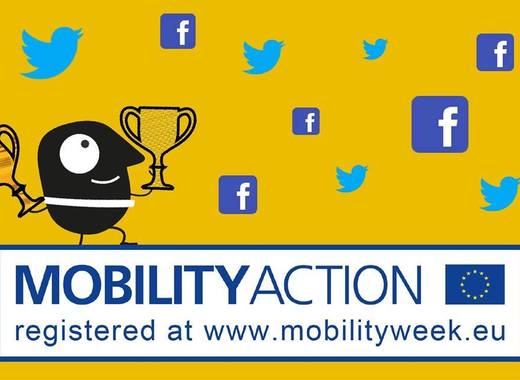 Source: Facebook / European Mobility Week
Since 2002, EUROPEANMOBILITYWEEK has sought to improve public health and quality of life through promoting clean mobility and sustainable urban transport. The MOBILITYACTION campaign gives people the chance to promote their ideas of sustainable urban mobility. There are 5 finalists you can vote for until December 19 by 12.00 pm Brussels time. The nominee with the most likes and shares will be invited to join the sustainable urban mobility workshops in March.
The mobility actions you can vote for are the following:
Playing Out in Iasi (Romania)
The "Playing Out in Iasi" community banned cars from some of its streets for several hours, creating a huge open space for activities. Children were given bicycles, scooters, chalk and other toys while their parents and grandparents could socialise and spend time together in the streets – completely car-free and safe. After a large turnout and overwhelmingly positive feedback, the organisers are now identifying further streets in Iasi that could be closed to traffic and opened to the public for recreation.
Waiting for the green light (Germany)
"Waiting for the green light" drew attention to a form of urban mobility that is often overlooked: walking. While walking is an essential part of most trips, especially those including public transportation, our cities' public spaces are often not well designed for pedestrians. Traffic lights in particular are designed for cars more than pedestrians, and the green light for pedestrians can be far too short for children and the elderly to cross the road. To symbolise this, participants in this MOBILITYACTION gathered on a median strip on a busy road in Berlin and set up chairs for pedestrians who were "stranded on the median!"
Fly+Bike (Netherlands)
Schiphol in Amsterdam is one of the busiest airports in the world, and the congestion around the airport makes it difficult to reach while having a significant environmental impact. This MOBILITYACTION created a detailed plan for a Fly+Bike concept, which would enable travellers to simultaneously book a bicycle together with their plane ticket. If they have large baggage, it would be delivered to their final destination with a special electric baggage service. Fly+Bike will help to set an example of how cycling can be better integrated into our travel patterns.
Stanley Black & Decker (Belgium and other countries)
Stanley Black & Decker reached more than 7,000 employees across 34 sites with its MOBILITYACTION campaign. Activities included testing electric/hybrid vehicles and e-bikes, promoting public transportation, participating in the Social Biking Challenge, biking/running/walking to work, and taking public transport instead of driving. Thanks to innovative activities organized by the teams across 15 European countries, employees finished their work week feeling inspired, healthy and even a bit sore. Moreover, many mobility proposals were submitted by employees for permanent measures, which will be evaluated and implemented in 2019.
How much does my car pollute? (Spain)
"How much does my car pollute?" was the questions, and participants in 7 Spanish cities got an answer! The objective of this MOBILITYACTION was to inform the public about the actual emissions from cars, especially those with diesel engines. Participants in Madrid, Barcelona, Valencia, Zaragoza, Valladolid, Melilla and Murcia could learn about the level of their vehicles' actual emissions and receive explanations about the harmful effects of these emissions. The make and model of dozens of cars were analysed, and many participants were surprised to learn the actual emissions coming from their tailpipes – which was often in conflict with what manufacturers advertise.
Source: mobilityweek.eu
TheMayor.EU stands against fake news and disinformation. If you encounter such texts and materials online, contact us at info@themayor.eu