Available in:
Share article
Helsingborg's care homes circumvent ban on visits with meeting tents
The safe spots put up in gardens generate a lot of interest
June 15, 2020 18:30
TheMayor.EU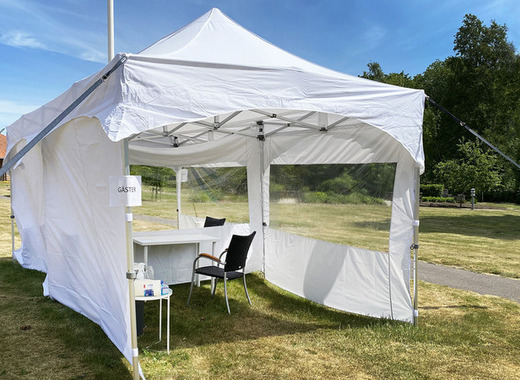 Source: Helsingborg municipality
Sweden, Europe's coronavirus death champion in May, has been much criticized at home for forsaking its older population. The Public Health Agency admits that nearly half of the country's fatalities linked to the coronavirus, which today stand at 4 874 (surpassing threefold those in neighbouring Denmark, Finland, and Norway) have occurred in care homes.
Ban on visits not a remedy
And while other nations like Spain, France and Ireland face a similar problem, the picture looks darker in Sweden against the backdrop of its reluctance to enforce a lockdown. Local media report that Swedish care homes are understaffed, short of protective equipment, and with hands tied by cumbersome health protocols when it comes to the administration of oxygen or sending residents to hospital.
Since 31 March, visits to retirement homes have been banned, but this is a double-edged sword as, according to psychologists, prolonged isolation from loved ones may ultimately prove more deadly than the virus itself.
Heeding their warning, some of Helsingborg's care homes have found a clever way to ensure that tenants and their relatives meet safely on their premises. For some time now, white meeting tents have been popping up in the gardens of these homes.
One such stand in the beautiful garden of the Rome Foundation's care home and has already witnessed a few birthday celebrations, not counting ordinary snacks. Susie Zanco, unit manager at the Rome Foundation's nursing home, explains why the tent has been so attractive.
"We see that they (residents and relatives) miss each other and this is a way for them to actually meet. It has been so long since many people met and are trying to stay in touch with phones and tablets was obviously not enough," she says, quoted by the municipal website.
Through a reservation system, tenants can plan meetings with their relatives. When they arrive, there are clear instructions and procedures to ensure that the risk of infection is minimized throughout the meeting. Designed to fit both privacy and safety, the tent space is divided in two by a transparent plastic partition with the other windows facing the garden.
Celebrating mom's 88th anniversary with a "plastic hug"
Among those who have enjoyed the meeting tent are Carina Bergman and her mother Siv. Thanks to the tent, they were able to have a small birthday party when Siv recently turned 88, albeit separated by a plastic wall.
On the nursing home's Instagram, Carina shared her birthday pictures and commented with the text: "It was really great to meet with windows between each other. Thank you, Rome for making this possible. Congratulations beloved little mom on your 88th birthday. The warmest plastic hug for you ❤️ ."
TheMayor.EU stands against fake news and disinformation. If you encounter such texts and materials online, contact us at info@themayor.eu