This Sunday: get ready for a unique bike ride across three provinces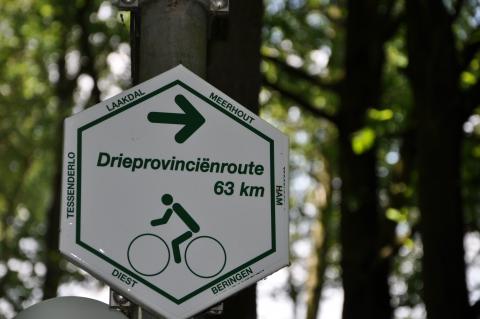 Source: © Drieprovinciënroute 2019
Save the date! This Sunday 2nd June 2019 the provinces of Antwerp, Flemish Brabant and Limburg in Belgium will be connected again, by bike of course. All cycling lovers are invited to a special tour and to enjoy the Drieprovinciën route (Three Provinces Route) What's in a name... The signposted route criss-crosses the most beautiful places in the borderland between Limburg, Antwerp and Flemish Brabant. The best departure point is the Paalse Plas.
Other departure points you can find at Tessenderlo, Laakdal, Meerhout, Ham or Beringen. Just choose your preferred distance and you are ready for a bike ride along beautiful bicycle paths. Once en route, you'll find yourself cycling through nature and remarkable attractions. Animation is provided at every departure point and you can also take the time to enjoy a tasty snack and drink.
Cyclists can register between 8 am and 3 pm and depart from any starting place. The participation fee is only € 4.00. In exchange, you will receive a registration card with a voucher that entitles you to a local dish in one of the departure points. Every participant is also insured through Sport Vlaanderen. There are 3 distances you can choose from: the full tour of 63 km or a shorter loops of 35 km (Tessenderlo-Beringen) or 39 km (Meerhout-Ham-Tessenderlo-Laakdal). If you manage to pass through all departure points and get the appropriate stamp, you'll be eligible to win great prizes!
Getting the stamps gives you the chance to win one electric bicycle donated by The-bikes, one of the six cycling day trips, one of the five multi-day cycling holidays offered by de Zigeuner (to be used in the year 2020) or one of the bungalow vouchers or hotel packages offered by Center Parcs.
Find out more from the video below (in Dutch):
Video and information by Three-provincial route 2019