Feast of Santa Rosalia in Palermo, Italy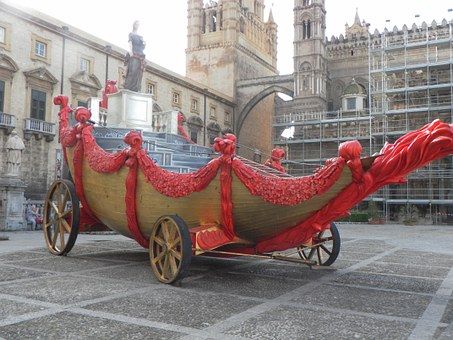 The feast of Santa Rosalia takes place in Palermo, Sicily every year in mid-July. It is a timeless tradition that involve tourists and take them to a different world, full of charm and beauty, between devotion and theater. Feast of Saint Rosalia is one of the most important religious events in the island of Sicily and most specially in Palermo. The feast is dedicated to Saint Rosalia, also called "La Santuzza" (Little Saint), the patron saint of the city, and it commemorates the miraculous appearances of the Saint from 1624, when Palermo was hit by plague.
The central point of the procession is a vessel-shaped chariot, built at different place every year, it is 10 meters high and almost as long, decorated with roses and angels, and pulled by oxen. The chariot is carrying the Statue of saint Rosalia. The Archbishop and the Mayor of Palermo lead the procession.
During the feast, on the streets of Palermo, you can taste traditional Sicilian food as pasta with sardines, babbaluci (snails boiled with garlic), sfincione (a thick Sicilian pizza), boiled octopus and watermelon.