How Bulgarians chase evil spirits
The impressive Surva International Festival of Masquerade Games in Pernik has been canceled due to the water crisis, but the ancient pagan ritual will be performed in many other municipalities
January 09, 2020 16:00
Plamen Petrov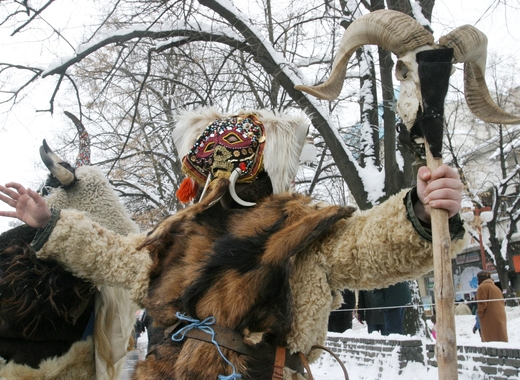 Source: Lyulin Stamenov
It's January. Wood and stone are cracking with cold, and in many Bulgarian municipalities masked creatures dressed in coarse animal skins clatter deafeningly with bells, shouting and visiting people's houses.
Foreign tourists might be left with the impression that Netflix is ​​shooting another fantasy series there, but they're wrong. The transformed participants in the Surova (Surva) feast, called survakari and kukeri, actually follow a living tradition dating from pagan times, which entails chasing evil forces and wishing the hosts and their animals a rich harvest, health and fertility in the new year.
Especially important are the masks - made of wood, hides, horns, tails, bird wings and feathers. They are crafted carefully throughout the year until the holiday, and the skills for making them are passed from father to son. Some of the participants in the ritual take on symbolic roles - bear and bear-leader, priest, bride and groom. Lately, contemporary political and showbiz figures are also represented in the masquerade.
No water, no fun
'The Surova (Surva) folk feast in Pernik region' was inscribed on UNESCO's Representative List of the Intangible Cultural Heritage of Humanity in 2015. The festival, which has been organized by the Municipality of Pernik since 1966, will not take place this year - for the first time in its history - because of the unprecedented water supply crisis in the city. The municipality was dealt a heavy blow, because it had expected a record number of participants - about 8,000 people from three continents and thousands of spectators. Survakari from the Pernik region, however, will follow the tradition and perform the ritual in other towns and villages there on January 13 and 14.
The tradition is alive
More than 30 groups will parade in the memorable masquerade show on January 11 at Simitli Stadium as part of the 'Simitliya - Ancient Land of Kukers Festival' organized by the municipality.
The Municipality of Breznik will also offer a spectacular event on 18 January with the 17th consecutive edition of its 'Surova Breznik Masquerade Festival'. This festival is not competitive, but participants will receive certificates, gifts and small cash prizes.
And those preparing for Surva in Pernik will keep their masks and costumes for the next, better year.
TheMayor.EU stands against fake news and disinformation. If you encounter such texts and materials online, contact us at info@themayor.eu