Available in:
Share article
Innovative architectural design aims to restore iconic Maltese spot
A Russian architect has a plan to rebuild the damaged Azure Window into a polygonal mirrored steel shape
January 02, 2019 21:30
Aseniya Dimitrova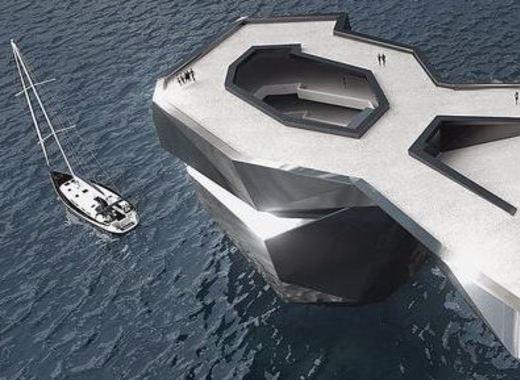 Source: © Svetozar Andreev 2018
The Azure Window, Dwejra Window or in Maltese it-Tieqa tad-Dwejra has been until recently an iconic tourism attraction, located on Maltese islands. Due to its unusual shape, the 28-tall limestone natural rock in Dwejra Bay used to give an amazing overlook on the sea. It was one of the most popular tourist sites in Malta and Gozo and a background of numerous movies and productions. Unfortunately, due to stormy weather in March 2017 the arch collapsed into the sea, thereby ruining the amazing spot.
The Azure Window before the collapse
No natural way existing to restore it, art and design come into the rescue with a plan to restore the iconic element through polygonal architectural form. A new project by the Russian architect Svetozar Andreev aims to recreate the ruined rock with mirrored steel faces with the same size as the ones of the original limestone arch.
What is more, the inside of the restored arch as designed is of 5000 square metres, which allows the construction of a museum. The architects have designed an exhibition space with five spiral floors, a dynamic laser show, each step representing one millennial of Maltese history.
Explore the amazing fusion of history, nature and modernism in the below video.
Source: Svetozar Andreev, hotei-russia.com
Photos and video: Svetozar Andreev 2018. All rights reserved
TheMayor.EU stands against fake news and disinformation. If you encounter such texts and materials online, contact us at info@themayor.eu