Ireland: welcome to my home, but no hugging, please!
Phase 2 of the country's reopening after the Covid-19 lockdown has begun
June 08, 2020 13:00
TheMayor.EU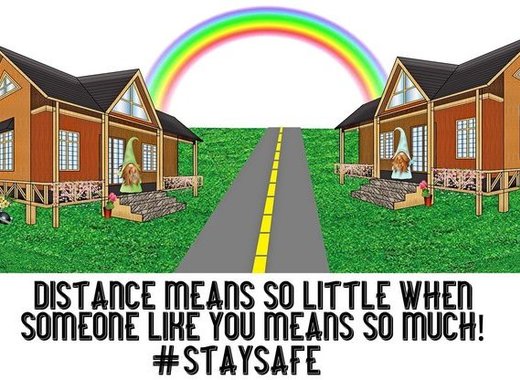 Emotionally charged family reunions will be taking place across Ireland after months of lockdown separation as the country enters the second phase outlined in its roadmap for reopening society and business. One of the new measures, effective from today, allows groups of up to six people to make short visits to other households, while keeping precautions.
This includes the homes of medically vulnerable people and those aged over 70. The move is made easier by the former 5 km travel restriction being extended to 20 km from one's home.
No kissing, no hugging, no shaking hands
"I think eating together, drinking tea together and sitting together talking is great. This is a move forward," said Professor Sam McConkey, from the Department of International Health and Tropical Medicine at the RCSI, quoted by RTE.
He strongly advised, however, that during these get-togethers people should observe all public health guidelines: abstain from kissing, hugging and shaking hands, wear face masks, keep a 2 metres distance, ensure good ventilation in rooms if not staying outdoors, adhere to the sneezing and coughing etiquette, avoid using the same kitchen utensils.
As part of the social gatherings green light, outdoor exercise, sporting, cultural or social activities of up to 15 people are allowed. Horse and greyhound racing can commence behind closed doors. Up to 25 immediate family and close friends may attend funeral services, according to the government website.
As for the resumption of economic activity, employers and employees must stick to the Return to Work Safety Protocol. People must continue working from home wherever possible.
All retail outlets are reopening with rules regarding hygiene and social distancing. Public libraries can reopen as well.
The Ministry for Health recommends that face coverings be worn in shops and other public places, including public transport. Regarding public transport, authorities advise people to use it only if they "absolutely need to" and resort to cycling or walking instead.
Measures regarding children and international travellers
Children have probably been the main culprits of the stay-at-home orders. Now they (and their parents) can yell in joy as playgrounds and commercially-serviced outdoor amenities are given the go-ahead to reopen. Post-primary children may join outdoor summer camps.
Avid travellers, who are in the same league as kids, are not so lucky. They may frown upon the recommendation that all non-essential overseas travel to and from Ireland should be avoided.
Passengers arriving from overseas are still expected to self-isolate for 14 days. Passengers will also have to complete a form showing the chosen place of self-quarantine.
TheMayor.EU stands against fake news and disinformation. If you encounter such texts and materials online, contact us at info@themayor.eu