Available in:
Share article
Jānis Baiks, Mayor of Valmiera: Valmiera is always open to cooperation
An international slogan of Valmiera is "Evergreen city!", which positions it as a city that is always topical, offering new ideas and opportunities for success, achievements and recognition.
November 15, 2018 11:30
Olya Georgieva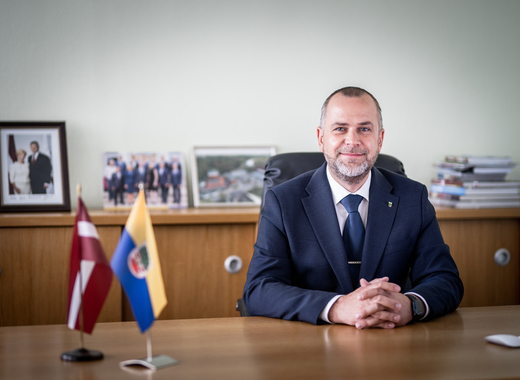 Source: Municipality of Valmiera
You have been the mayor of Valmiera since 2014. What was your path to this current position? And what are the topical issues on your agenda today?
On taking up the position of mayor of Valmiera, I had already acquired experience working in the municipality, as I had been executive director for more than 10 years – and for a short period just before being elected, I was also deputy mayor. Because of that, I was already familiar with our strategic long-term planning and the range of daily issues and could continue the work begun at full capacity.
Valmiera is a fast-growing city which is strengthening its position not only in the Vidzeme region but also on a national scale, by demonstrating an ability to address problems of national significance within the framework of a municipality in a strategic and ambitious manner. For example, by supporting the development of entrepreneurship to benefit local citizens. When local entrepreneurs need labour, locals can be employed, but they do need a place to live, and therefore it was necessary to solve the issue of housing availability. We seized the opportunity and found a way to be the first to build multi-flat residential houses with 150 flats. All flats are now inhabited. Both the entrepreneurs and the citizens are grateful for that. We hope to continue supporting local entrepreneurs and citizens, so I am actively engaged in finding arguments and justifying state aid for this initiative.
Valmiera was recognised by the main Latvian entrepreneurs' association, the Latvian Chamber of Commerce and Industry (LCCI), as the most business-friendly city in the country. How does the municipality support entrepreneurs and improve the business environment?
My motto has always been, if entrepreneurship is doing well, there will be enough money for everything. Entrepreneurship generates the biggest proportion of tax revenue in the city. It allows us to develop and diversify the field of education, to develop sports infrastructure, to create a high-quality culture and tourism offer, and to provide the social support system. One of our priorities is a top-notch infrastructure to provide entrepreneurs with all the communications they need and a fully-fledged road network for doing business. We are currently developing the concept of Valmiera Industrial Park, to which end we have increased the administrative boundaries of the city. The local business incubator plays an important role in creating and supporting start-ups in the city and wider Vidzeme region. The Valmiera Development Agency takes care of the dynamic business environment in the city and works with both local and foreign investors. Valmiera's extensive education system plays an essential role in career development. Vidzeme University of Applied Sciences, Valmiera Vocational Education and Training School, and Valmiera School of Art and Design are modern educational institutions that work closely with employers and industry. The city cooperates closely with entrepreneurs, their associations and clubs, and the LCCI. We regularly meet in seminars, exhibitions and forums to discuss issues and find solutions. The annual entrepreneurship award in different categories has become a great tradition, celebrating and honouring entrepreneurs' achievements. developvalmiera.lv
This year, your city received international recognition, winning a prestigious Financial Times award in the category of Micro European Cities of the Future. Tell us more about the Valmiera foreign direct investment strategy (FDI strategy).
The FDI strategy is a brief statement of the city's ambitions in this area. It provides insights into the various resources we use now and what we plan to attract and apply in the future. It defines key initiatives we implement to attract more investment, among them the development of Valmiera Industrial Park – a territory equipped with top-notch infrastructure and allowing investors to be eligible for real estate tax discounts. The strategy also provides information on incentives available to inward investors, as well as information about aftercare initiatives.
The analysis of high-growth sectors and sub-sectors in Valmiera provides useful insights into industries with excellent potential for inward investment. Valmiera today is proud to host 120 companies, which collectively account for 11% of the city's total workforce, and has attracted foreign investment from countries including Germany, Sweden, Russia, the USA, Italy, the UK, Luxembourg, Estonia and Lithuania.
We strongly believe that the prestigious Financial Times award, as well as our determination and hard work, are a driving force for the future development of the city.
http://developvalmiera.lv/en/discover-valmiera/
The city of Valmiera is implementing smart-city solutions based on the needs of local citizens and long-term observation of problem situations as well as the city's development strategy. Tell us more about what you have managed to achieve so far and what else you plan in this direction.
For example, an operational information centre, where local citizens are able to get a quick response from different municipal services with one phone call. There is considerable progress in e-communication with local citizens. We are currently testing and planning to improve a mobile app for the city, to enable the municipality to get closer to its citizens and to make communication faster and more efficient.
The number of visitors to Valmiera is increasing. The city and its surroundings (including Gauja National Park, the largest in Latvia) is perfect for enthusiasts of active tourism – biking and hiking in summer, cross-country and alpine skiing during winter. Tell us more about the opportunities for tourism in your city.
Valmiera, despite being an industrial city, has managed to retain its unity with nature, to preserve natural values and a natural environment. I have always believed that it is a great advantage to live in an environment that is both natural and looked-after, and such an environment is also appreciated by tourists. Those working in the tourism industry have an opportunity to show their creativity in addressing this potential – and tourists to enjoy it. As you already mentioned, Valmiera offers a variety of leisure activities all year round, as well as cultural events and activities exploring history. We are becoming more attractive for tourists with our gourmet and events tourism, and are also working to enhance our offer for business and healthcare. I agree with what the Latvian writer Pāvils Rozītis said about Valmiera some 100 years ago: "Who has once lived here, will always wish to return".
The city has a rich cultural and sports programme – concerts, celebrations, competitions, forums and events related to Latvia's 100th anniversary in Valmiera. Highlight some of the most interesting events this year.
Valmiera and its citizens have always been a part of historically remarkable moments in Latvia. It is the place where the first flag of Latvia was sewn; the citizens of Valmiera struggled and were killed for Latvian independence; the people of Valmiera were the first to donate for the creation of an independent Latvia in 1918, and they also played an active role in the restoration of independence in the 1980s. I can assert that from day to day, the citizens of Valmiera are responsible for the state in which they live today and which they are creating for future generations. I would like to highlight several events devoted to the centenary of Latvia – for example, the audio-visual exhibition in an urban environment, "Our Freedom Street" ("Mūsu Brīvības iela"), which recounts Valmiera's role in milestone events of Latvian history, and "The Freedom Forum", a discussion about freedom for us as a state and a nation, its meaning today and in a future perspective. As they do every year, local citizens carrying candles and torches will commemorate our fighters for freedom. In the centre of the city, we will use candles to create patterns of ancient Latvian signs, symbolising strength. We will also show our honour to those citizens of Valmiera who contribute to the development of the city and the state. There will also be a premiere of an animated video about the history of the Latvian flag.
How do you find the idea of a unified platform for all European cities where European citizens can get information about everything happening in the EU? How could this platform be useful for your projects?
I think it is a very good idea, as it offers us an opportunity for brief and focused presentations of ourselves in one place. When looking for partners, sometimes we search for common interests, while at other times we might look for diversity to complement us in implementing an idea. An international slogan of Valmiera is "Evergreen city!", which positions it as a city that is always topical, offering new ideas and opportunities for success, achievements and recognition. Valmiera is always open to cooperation.
TheMayor.EU stands against fake news and disinformation. If you encounter such texts and materials online, contact us at info@themayor.eu