Joël Bruneau: We always pay attention to the good use of public money
Conversation with the Mayor of Caen and President of the agglomeration Caen la mer
August 01, 2019 11:30
Aseniya Dimitrova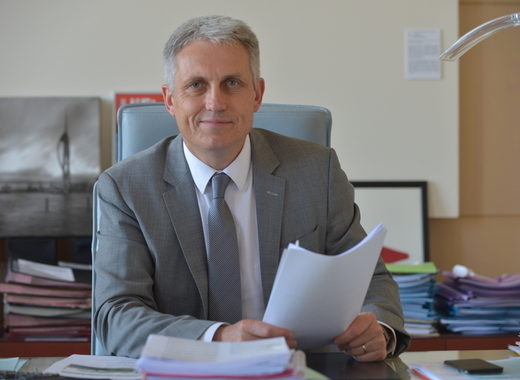 Source: Francois DECAENS/ Ville de Caen
Joël Bruneau is Mayor of Caen and President of the agglomeration community Caen la mer since 2014. He has a bachelor's degree, a law degree and a degree from Sciences Po Paris. A former top athlete in running who remains the last French to win the Alençon-Médavy race in 1988.
Mr. Bruneau, Caen is the cultural capital and a political and economic centre of Normandy. As Mayor, how would you describe the city - what are its strengths in terms of tourism and investment?
We are fortunate to live in a city that combines a real dynamic in terms of economic development and at the same time enjoys a particularly high quality of life. And at the level of the dynamics around the economic development it is necessary to specify that it leans on a pole of higher education and research which is extremely vivacious and strong. Therefore, we have implemented a certain number of projects that reinforce this dynamic ... This is what makes us successful in generating employment over the last 4 years - at the level of between 1500 and 2000 additional jobs each year for the agglomeration.
"The greatest feature of our territory is the quality of life"
In addition to the economic development on which much work has been done, it is obviously the development of tourism with projects such as the enhancement of heritage, the Château and we will soon present the transformation of our former courthouse that will become a tourist site. Also, this economic development, is carried by many companies. The main characteristics of our economic fabric is the diversity of companies ... with the main areas of activity being digital, health and then materials, we also have traditional activities such as automobiles ... Furthermore, we have also innovative companies that do exceptional things like Eldim, our company that works for Apple and has developed a technology with facial recognition for mobile phones.
And the other great feature of the area is the quality of life. It is a very green city. A city close to the sea, where there is an important cultural activity ... All these elements of attractiveness, we try to valorise to bring our inhabitants in the city.
This association between on the one hand economic dynamism and on the other - a quality of life, is reflected in the dynamics of the real estate market. There is indeed a promising market with important new living areas, such as the project of major interest that has been recognized by the State, the revaluation of the peninsula. An old industrial plant, it is a bit like the city of Nantes between the Orne river and then the canal that leads to the sea.
A city is not just about the elected officials, it is mainly about those who live there, this is what you said after hearing the results of the 2014 elections. During your term, how did you reduce the distance with residents and how did you get them involved in local politics?
First, by what is called modest governance. That is to say, a permanent concern to ensure that elected officials are not disconnected from citizens ... This is not a demagoguery, but we are on a territory of dynamic, enterprising, innovative people. It is not only the elected officials who make the dynamics of the territory. It's important to be in the immediate vicinity of all citizens and that's why I set up a system where each district is represented by an elected official whose function is to be the link and the spokesperson of the municipality in the district but also the one who is permanently next to the inhabitants to raise their problems. It's something that does not exist in every city.
What exists in other cities are the neighbourhood councils. Something that has been greatly accentuated. We have solicited from each neighbourhood council concrete projects for the neighbourhood. These projects are small or large, we have not set financial limits ...
And then, I do very often meetings of proximity in all the districts where in fact it is the inhabitants who ask the questions and the elected ones who answer. We are not there simply to deliver speeches but to hear the questions that are asked by the inhabitants. I also hold permanence every Saturday. So indeed, there is a constant effort to be in the immediate vicinity of the inhabitants and to let the inhabitants speak about the projects that concern their district ... There, currently we work on the complete redesign of one of our entries to the city, of a busy street. Its passengers have a vocation that it be completely reconfigured and revegetated. So, it is from the remarks of the inhabitants that the landscape architect works on this project.
You have eliminated several allowances and expenses related to the functions of elected officials. What are the financial and social effects of these measures?
There are two functions to that, what I call "modest governance": showing that the elected officials are there to serve the citizens and not to serve themselves and then to incorporate into the community a culture of economy. We know very well that public spending in France is extremely high. We have a permanent attention on all the expenses, and it is necessary that the elected officials give the example...
It is this concern for exemplarity that motivated me to limit my allowances and the number of deputies, which leads to substantial savings on budget level - over the duration of the mandate that represents about 2 million euros. So, it is the constant concern to make the City of Caen work at a lower cost that has allowed us to both lower the tax rate by one percent each year and at the same time have an extremely strong investment policy.
And your fellow citizens, did they appreciate this approach?
I think so. They understood that it's not just communication but a way of being. Starting with myself, I sold the big car. In fact, the city of Caen spends a lot of money. We work with 130-million-euro annual budget in terms of operational costs. So, we always pay attention to the good use of public money.
Caen is the only major city to vote for lower taxes since 2015. How has it worked so far?
We cut the rate by one percent per year, which prevents the increase ... Because otherwise there is a mechanical increase in taxes every year. So, taxes are not higher today than what they were before ... Of course, in terms of revenue for the city, it is less, but we managed to compensate thanks to this policy of permanent economy and because fortunately, we are a pretty dynamic city, with real structures that bring us back revenue.
Could you mention some concrete steps already taken in terms of sustainable development?
Some investments have been made, particularly to reduce energy consumption throughout the city. For example, each year we invest 1 million euros in the replacement of public lighting, with new technologies that consume much less energy ... We put in place a system of incentives for the renovation of buildings, insulation on the buildings of the City and a specific policy of encouraging owners and co-owners to do the same on their buildings ... So, these are all elements that have focused on lower energy consumption. For example, we have already replaced public lighting which as a consequence has led to 40% less consumption of energy.
We take measures to limit the use of individual cars
Then the second part is to make sure that people use the car less to get around. We are going to inaugurate the new tram ... and we have considerably developed the use of the bicycle. We have created a new bus line ... So, there are so many elements that should allow to reduce the use of the private car and then we can talk about all the awareness-raising actions that we have been able to take to schools and to the general public.
More generally, what other innovations would you like to share with other mayors of Europe?
There is one, on which we did a national experiment, as part of returning to the 4-day week at school level. We set up a system to offer each child who lags behind the opportunity to return on Wednesday morning to have private lessons given by teachers ... with a different approach, in small groups, in a fun way so the child can quickly get back on track. Because we know that in France there are about 15% of children who arrive in 6th grade without knowing how to read and write well. So ... this is what we called The Plan Wednesday, the Equal Opportunities plan, a subject that is extremely important to us and that has received important means ...
The second innovation is street cleaning on demand ... We created a service called "SOS street" and people can call all week and call to have someone intervene immediately to solve the problem, so that we have the cleanest public spaces, whatever the neighbourhood.
And then something that has just been launched called "SENIORS SENIORS". This is an application on the mobile phone, which allows you when you are a retiree to offer to lend a hand to someone who is less in shape. For example, a 65-year-old pensioner can go shopping for a lady who lives alone and has trouble getting around, because not everyone has children nearby ... So, it's a small daily service that we try to enhance, because it is a form of active solidarity, which involves everyone and is a way to strengthen the good life in Caen.
What projects or initiatives, in your opinion, have marked your term and why?
There are two things I hope people will remember. On the one hand, we have made a great effort to revitalize the city centre and give it more attractiveness. Many downtown public spaces have been rebuilt: such as the spaces that were used by the car are now for pedestrians, improved the vision of the city centre, give it more value and appeal to both those who live in Caen but also for those who come to visit, tourists in particular.
And the second thing that is very symptomatic of this mandate is that we did not necessarily seek to make large investments. We focused on improving the daily services of the inhabitants everywhere in the neighbourhoods with a lot of socio-cultural amenities nearby, theatres, sports facilities stadiums throughout the city. So, this important investment program that was supported throughout the mandate really benefited a lot to the Caen residents.
Finally, outside of your political career, you have been a top athlete. Which of your passions is strongest: for sport or for politics?
I think there is a time for everything in life. Today I am obviously more passionate about the work I have to do in the city than by the sporting aspect. Sport is better when you are 25 years old ...
Like the interview? Subscribe to our newsletter to receive the latest from the EU cities right into your inbox.
TheMayor.EU stands against fake news and disinformation. If you encounter such texts and materials online, contact us at info@themayor.eu