Join the patriotic singing lesson in Krakow
As part of celebrations commemoreting the First World War and the regaining of Polish independence
July 28, 2019 20:00
Aseniya Dimitrova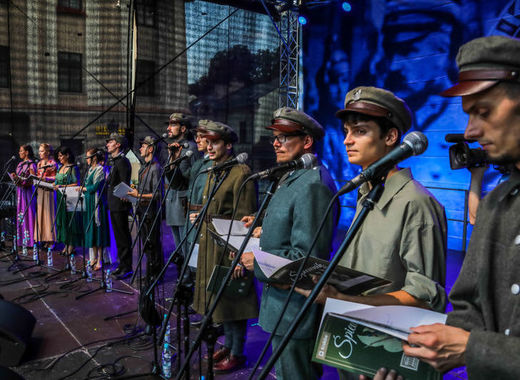 Source: Bogusław Świerzowski/ Krakow.pl
Are you passionate about history, singing and Poland? This event in Krakow will help you bring all those things together. "Kadrówka 1914" is the name of the 73rd Krakow Singing Lesson, which will take place on Monday, 5 August, at 19.00 on the Small Market Square. During the concert, songs related to the anniversary of the march of the First Cadre Company in 1914 (Kadrowka in Polish) will sound.
Traditionally, at the beginning of August, "Kadrówka" comes to the former Polish capital. This year on 6 August the military formation will set off from Oleandrów to Kielce, just as it happened in the historic 1914. The fight for independence of Poland started in this city when Józef Piłsudzki created the formation in the Austro-Hungarian Army. Young and full of hope, he was convinced that the end of the struggle would lead to the long-awaited freedom of Poland. Their efforts were rewarded as in 1918 the country again appeared on the world map. So, let us celebrate together Poland's regaining of independence. Mayor Jacek Majchrowski invites everyone to come and sing together.
As is the case every year, free songbooks will be prepared for the participants of the Krakow Singing Lesson which are also available online. The organizers of the concert of legion songs on "Mały Rynek" are the City of Krakow, the Polish Song Library and the Loch Camelot Theatre. Find list of songs to be taught and more info on bibliotekapiosenki.pl
Like the article? Subscribe to our newsletter to receive the latest from the EU cities right into your inbox.