Available in:
Share article
Jordi Ballart : We want a city for everyone, with no one left behind
Interview with Jordi Ballart, Mayor of Terrassa in Catalonia, Spain
March 11, 2020 11:30
Aseniya Dimitrova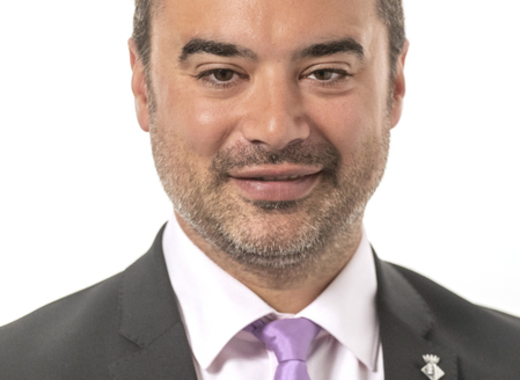 Source: Jordi Ballart / City Council of Terrassa
Mr Ballart, how would you describe Terrassa? How did the city change since you assumed the post in 2012?
Terrassa is a large city, ranked third in Catalonia in terms of population. Today's Terrassa is the product of the substantial growth seen from the middle of the 20th century onwards, through immigration from the rest of Spain, and subsequently from elsewhere around the world. It is, then, a city with a long history and a deeply rooted textile industry tradition.
A mediaeval and modernist city with great cultural heritage, which has nonetheless been through a major transformation, in particular from the 1990s onwards. During my first stint as mayor (between 2012 and 2017) we saw first-hand how the city changed as it opened up to the world.
In my new mayoral term, at the head of a new coalition government between the new party Tot per Terrassa ('All for Terrassa', or 'TxT') and Esquerra Republicana de Catalunya ('Catalan Republican Left', or 'ERC'), we are planning a new city model with the emphasis more on the environment, freedom, prosperity, justice and democracy.
Our view is of a united, inclusive, open-minded, feminist, sustainable city which promotes animal rights and has adapted to the modern era, without neglecting the efforts made in previous years. It is important to remember that Spain lived through four dark decades of the Franco dictatorship, and we must, therefore, recognise the value of the changes we began to see from 1978 onwards.
We are now sketching out a new city, with challenges focused on combating climate change, physical and mental barriers, a city that places a greater emphasis on the whole cycle of life and all its citizens, whatever they think, however they love or pray, and wherever they come from.
You summarised 2019 in one word: change. What major changes to the municipal governance did you introduce last year and why? What efforts has the city made to promote innovation?
The municipal elections were held in May, resulting in a progressive government made up of the TxT and ERC, steering a major project for change in the city.
We set out with a roadmap for a new city model over the next decade. We said that we wanted a progressive, inclusive, feminist city, committed to the environment and without any type of barriers. Over the months I believe that we have already taken significant steps towards making this vision a reality.
We led a joint protest by different towns and cities against the energy company Endesa to protect the more vulnerable members of society against energy poverty. We set up an executive department and a waterways commission to address the real challenge of transforming the waterways, and specifically to prevent them from acting as barriers.
We have restored neighbourhood policing, have embarked on our own Green Revolution and begun a wonderful cultural project featuring urban art on exposed walls in a number of city neighbourhoods.
These are just a few examples, but there are many others we could mention in areas such as animal welfare, differently abled persons and the city's public profile. Plenty has been done, and there is plenty still to be done.
As a City Council, we prioritise innovation as a strategic commitment to make Terrassa a leading city in this field and to link economic activities to a sustainable productive model. We base our approach on coordination between public and private agents, in fostering high-tech companies and promoting emerging clusters.
It is no coincidence, then, that Terrassa has for more than two years been co-chairing the Innpulso Network, made up of 68 Spanish cities recognised as Cities of Science and Innovation.
One of the objectives of your governance programme 2019-2013 is to make a "green revolution". What would your first steps to face the climate challenge be?
We believe that the fight against climate change is the responsibility of everyone. That is why we have embarked on our own Green Revolution, a new city model to make more space available to pedestrians, reduce pollution and achieve a healthier city.
This means a city that is easier to get around, with less traffic, less noise and less atmospheric pollution. It represents a major transformation which has already begun by restructuring traffic in the city centre to create a low emissions zone. These changes will continue over the coming months so as to double the area set aside for pedestrians over the past 20 years.
This is a transformation which goes far beyond the city centre to cover every neighbourhood, as we are applying different solutions in each district with a very clear vision of our city: everyone has the same right to breathe cleaner air, to live in a less noisy environment and enjoy public spaces.
There will be street-level initiatives to balance out public space, reallocating a larger area to pedestrians, bicycles and public transport, so as to achieve changes in the mobility practices of the general public.
These are measures serving to reduce accident rates, noise and energy consumption, to improve the environmental quality and habitability of our streets, while also providing greater independence for children, older people and the differently abled. A real green revolution to get Terrassa moving and living better.
Another of your commitments was to improve mobility by offering better public transport alternatives. Not long ago, Terrassa introduced free bus line to the local hospital and promised to freeze rates in 2020. What measures do you intend to introduce to make transport more sustainable?
Mobility policies are essential in defining the model of the city that we want. And we launched one important measure here on 17 December with the T-Hospital bus pass, providing free travel to Terrassa Hospital. This has so far proved a real success, with more than 6,000 people applying for the card, allowing them to travel free of charge to a healthcare centre which treats thousands of Terrassa's citizens, but is located away from the city centre.
The project forms part of our political will to resolve the existing parking problems at the hospital, and to demonstrate that buses are a real, competitive, quality alternative to getting around the city.
The free bus service to the hospital and the freezing of city bus fares in 2020 form part of the new mobility and transport policy measures being promoted by the City Council as we advance towards the Green Revolution I mentioned earlier.
In December you assisted to the inauguration of the first hospitality establishment in Terrassa managed by people with intellectual disabilities. Could you tell us more about your plans to make the city fairer and more inclusive?
We want a city for everyone, with no one left behind. And that means that we need an environment that is increasingly inclusive and accessible for people with different abilities.
Projects such as the La Trama café provide great inspiration in following this path. The establishment is managed by Prodis, a long-standing foundation in the city focused on comprehensive support for adults with learning disabilities, mental illness and cerebral palsy.
La Trama is more than a café: it's a new form of meaningful, quality employment. And it is based at the Mercat de la Independència, a neighbourhood market where thousands of local people do their shopping. This normalises and gives visibility to differently abled persons, doing a job just like anyone else.
If a city does away with barriers, it promotes capabilities. La Trama provides proof that we have one barrier less in the city, now that Terrassa has its first hospitality establishment where the staff are made up of youngsters with some form of disability.
I always insist that disability is simply another aspect of a person, not the only one. And so our aim is to continue championing this cause, raising visibility and doing away with stigmas and prejudices in our mental constructs and perspectives.
Terrassa has been a flagship city in this field for years now, with a long-standing Executive Councillor for Differently Abled Persons, with the aim of combating physical and mental barriers.
One quite recent example was the installation of an inclusive ice rink during the Christmas holidays, the first accessible rink anywhere in Spain with devices allowing people with physical and mental disabilities to skate. And by that I mean anyone from people who use a wheelchair to others with reduced mobility or difficulty keeping their balance.
I think that provides clear evidence of the new Government's sensitivity in this area, and a clear desire to focus at all times on an inclusive approach in every public policy and initiative.
One of Terrassa's real treasures is its network of organisations. Many of them work in the field of differently abled people, and as a City Council we bring them together on the Differently Abled People and Accessibility Board, a highly active body which addresses issues of awareness-raising, job opportunities, access to quality education and leisure activities.
The main operational commitments to achieve a more inclusive city involve setting up new training programmes for people with disability, so as to give them greater empowerment, and to create mechanisms to support them throughout their schooling and right up to university.
A little more than a year ago the water management on the city became public. How do you evaluate the financial and social results so far?
It has been a real challenge for the city. The new publicly managed company which is directly handling the water supply, Taigua, marked its first year in operation on 10 December last year with a commitment to offer the public an efficient, quality service.
We are working to improve such aspects as water quality, new infrastructure and IT systems to improve the service, while also maintaining and extending social subsidies. During this first year in operation the aim was to focus on ensuring that the 100,000 customers would not only notice no substantial change in the service, but also to lay the long-term foundations for a quality, efficient, transparent, participatory and social public service.
So far we have focused on commitments to our citizens connected with greater investment and improvements; an emphasis on the quality of tap water; the promotion of environmental water-saving measures; keeping prices steady; guaranteeing social policies, and promoting public participation through the Terrassa Water Observatory.
Looking ahead to the future, we have already begun analysing the investments that will serve to improve water quality and energy efficiency, and to bring in new IT systems. Another major aim is to improve the taste of the water.
Improved efficiency across the network is another of the priority aims, which means less water being wasted, as well as reducing our carbon footprint to combat climate change.
Finally, is there any other local innovation and good governance practice that you would like to share with the other mayors of Europe?
Continuing with these ideas for innovation and the Green Revolution, in 2020 we will have 13 municipal buildings running on photovoltaic power. Introducing renewable energies will help promote energy self-sufficiency at establishments such as primary schools, civic centres, sports facilities and libraries.
The installation of these photovoltaic energy-generating plants forms part of the TEI Terrassa Smart Energy project, the aim of which is to reduce consumption causing CO₂ emissions. It is the first initiative of its kind in Catalonia and is part of the Terrassa Smart City strategy. It also involves public lighting (replacing all street lamps with LED technology), and the bus fleet being renewed with hybrid vehicles.
In fact, we recently received the "I'm Smart" accolade for our commitment as a smart city. This marks a recognition by the Catalan Government of Terrassa's good practice, demonstrating that we are on the right track in terms of technological innovation to improve the lives of our citizens.
TheMayor.EU stands against fake news and disinformation. If you encounter such texts and materials online, contact us at info@themayor.eu