Available in:
Share article
Kevin Cauchi: I want to ensure that we have a community where no one is left behind
Interview with the Mayor of Għajnsielem, Malta
June 11, 2020 11:30
Aseniya Dimitrova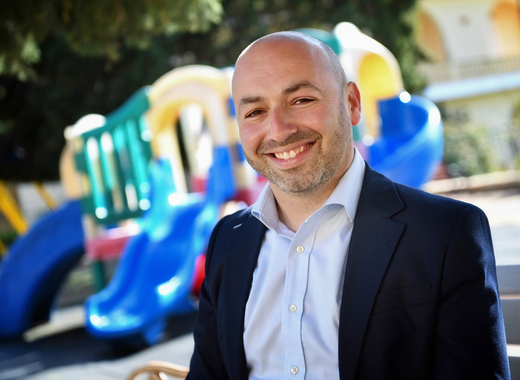 Source: Kevin Cauchi / Għajnsielem Local Council
Kevin Cauchi has been mayor of Għajnsielem and Comino (Malta) since 2019. He holds a Master's in Business Administration and a Bachelor's in Commerce from the University of Malta.
He is a member of several NGO's and author of articles related to his hometown village. Cauchi is also an alternate member of the European Committee of the Regions.
Mr Cauchi, would you briefly describe the locality of Għajnsielem and Comino for our audience? Which is your favourite place?
As soon as you arrive on the island of Gozo, while still aboard the ferry, the first village that you will see the is Għajnsielem just up the hill with Lourdes Chapel, the 18th Century Fort Chambray and the Lombard-Gothic-style sanctuary dedicated to Our Lady of Loreto dominating the skyline. Għajnsielem means the 'Spring of Peace' with the name originating from the water spring around which, in 1700, the Knights of Malta built an arcade containing public washbasins and fresh water spouts. The wash-house is today part of the historic centre of our village.
With a population of 3,200 residents, Għajnsielem has a lively village centre and offers several places of interest worth visiting. It is surrounded by idyllic spots ideal for swimming and diving. The outskirts offer several hiking and walking-routes worth visiting due to the fantastic scenery of the Maltese countryside and the Mediterranean sea.
Meanwhile, the beautiful island of Comino which falls under the jurisdiction of Ghajnsielem Local Council has a permanent population of just three residents! Yet it is a very popular tourist destination thanks to its beautiful scenery and the reflective clear waters surrounding the island.
My favourite place is definitely the 'Xatt l-Aħmar' bay especially during the summer season where one can spend hours enjoying this natural rocky beach including the beautiful coastal surroundings.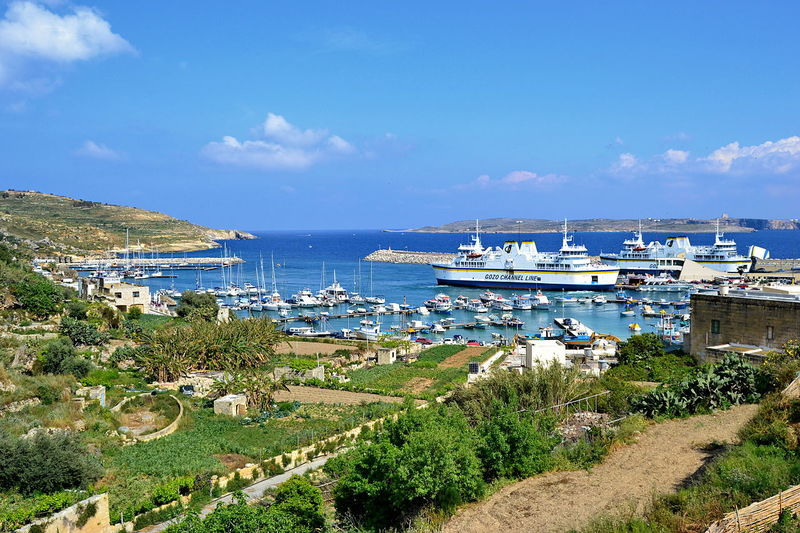 As soon as you leave the Mgarr Harbour towards the Gozitan heartland you will see the picturesque village of Ghajnsielem. Image: Ghajnsielem LC
What are your top priorities for your mayoral term and how do you intend to make Għajnsielem a better place to live in and visit?
I want to ensure that we have a community where no one is left behind.
The youths, elderly, families, persons with a disability and foreigners living among us are all part of our agenda when planning infrastructural projects and cultural events. It is worth mentioning that over 50 events were held during the first 6 months of this legislature (which quite a feat is considering our limited resources!) We aim to create more events post-COVID to rejuvenate the micro-economy and assist small local businesses.
Several works are in the pipeline including embellishment works, upgrading of the existing playing-fields and the long-term planning of a Cultural centre which will hopefully host a history and Maltese-crib museum that will certainly welcome many visitors and showcase what Ghajnsielem is all about.
We are investing heavily in the protection and conservation of the environment through several green initiatives. Recently for example we have planted several trees and also invested in an electric minivan to transport the elderly and vulnerable people. Clean-up campaigns are organised from time to time whilst the council workers do their best to help in the upkeep of our village
Education is also a top priority. We are offering free courses aimed at different age groups including traditional Maltese crafts and assisting our children to improve their writing skills. We are also introducing a number of open mini-libraries around the village to help fight illiteracy and encourage young children to grab a book and read. Educational walking tours are also being planned.
Through several projects, large or small, we aim to make Ghajnsielem more attractive to our visitors and a better place to live-in for our residents.
Covid-19 has put a major strain on the economies. Yet, Malta managed the pandemic well and is ranked among the safest places to spend the summer vacation in 2020 according to European Best Destinations. What kind of summer 2020 do you expect?
The Covid-19 pandemic has been a challenge for all of us both on a micro and macro level. When one considers the situation in which many of our neighbouring European countries had to go through, it can safely be sad that Malta has somehow managed to remain relatively stable from an economic and health point of view.
However, it is still too early to say whether Malta is ready to open its border in order to save the 2020 tourist season. Although our economy depends heavily on the tourism industry and lock-down restrictions are being eased, no one knows yet how the situation will develop as we prepare for the summer season.
Most probably, we will end up having a restricted summer season with border initially open to a small number of so called "safe countries". There is always the risk of a second wave of the Coronavirus and hence I believe that the overall situation is still too early and volatile to predict. The internal tourism (for example Maltese travelling between Malta and Gozo) will play an important part in the economic recovery.
(Editor's note: the interview was taken prior to Malta's lifting of most of the Covid-19 related restrictions.)
How will you make the village more attractive to hesitating tourists, what will you tell them?
As long as all health and social distancing instructions are followed, Ghajnsielem like the rest of the Maltese island can slowly start accepting visitors to see our places of interest and enjoy a nice meal in our restaurants, which gradually are starting to open again.
Many in Malta and Gozo are raising concerns about the fast-paced construction, ruining the beauty of the territory. What is your vision for a sustainable construction on the island of Gozo – as a Mayor and as someone experienced in the real estate?
From my experience of working in the property market for the last 15 years, the key lies in finding the right balance between allowing sustainable development whilst preserving the unique character of the island. The property industry is an important economic pillar for the Gozo economy employing many people both directly and indirectly.
However, I believe that the building policies should be improved and include the long-term vision of the island in order to ensure that our Gozo is better preserved for future generations. New permits should have a focus on smart/green buildings that respect the surroundings and with an accent to Maltese architecture.
Village cores and historic areas should be protected at all costs. Attractive government grants should be made available to encourage property owners to restore instead of demolish.
Is there any project or an innovative practice from your locality that you believe is worth sharing with the other mayors in the European Union?
We want to ensure that all upcoming infrastructural projects respect the environment, offer educational opportunities and encourage persons with disabilities to take part. Recently we have teamed up with the Gozo Federation for Persons with Disability and Birdlife Malta in order to turn a particular area into a so-called 'Learning Garden'.
This open space will offer an amphitheatre where schoolchildren can learn about Nature. It will also cater special needs for autistic and blind children. A small bocci-club will also be integrated in order to retain the sense of community and attract retired residents to the area. We also want to play our small part and reduce light-pollution as much as possible.
Follow the link to explore Għajnsielem and Comino.
TheMayor.EU stands against fake news and disinformation. If you encounter such texts and materials online, contact us at info@themayor.eu